Christmas in July at QVC has become an annual tradition filled with whimsical and beautiful holiday decor.
Without a doubt, it was one of my favorite seasons of the year during my time as a program host at QVC.
I especially loved putting together and designing products for my You're Home With Jill shows.
I look back at pictures from those shows with pride. We created some really beautiful pieces that I hope people continue to enjoy.
With so many years of Christmas in July at QVC under my belt, I thought I'd put together a little walk down Candy Cane Lane with some of my favorite pieces.
I've also put together a few favorites from products featured this year…think of it as a virtual home show, Just Jill style!
So let's get your Ho-ho-home ready for the holidays!
*post contains affiliate links.
Celebrating Christmas In July
Christmas in July at QVC really took on special meaning for me when I was able to work with merchandising teams and vendors to create products just for my shows.
I loved being able to create cohesive collections that had some kind of a theme, like the woodland couture look below.
It was always so much fun to help style the set to bring the entire look to life!
I also loved the challenge of elevating and updating more traditional Christmas looks. Not easy! But working with such luscious colors as red, gold and green always resulted in something stunning!
Christmas With A Personal Touch
Of course, my point of view for a lot of the holiday decor I helped to create was based on favorites from my childhood and Christmas with my children.
I started collecting Santa designs years ago, so it was an honor (and SO much fun) to work with Byers Choice to create unique Santa and Mrs. Claus figurines.
I was even able to incorporate some of my children's letters to Santa into a couple of the Santa designs.
And while I collaborated on a lot of different Christmas tree designs, I think my favorite has to be…..the Trevor tree! My Mom still uses hers every Christmas!
I'm not sure how old Trevor is in this picture, but since he's not even as tall as the 5 foot tree, I'd say he's probably 8 or 9 years old. He'd tower over that little tree now!
More Christmas In July Memories
I have hundreds and hundred of pictures of the various Christmas collections I've worked on. And I own quite a lot of the items I helped to create.
Here's how I use the elegant magnolia collection on one of our Christmas trees (yes, I said 1 of our trees….I've been known to have at least 3 trees up in the house…but it's been as many as 7!!)
The magnolia collection is probably my favorite. It was in the first assortment of products that really had my handprint on it and I continue to use these pieces in my holiday decorating year after year.
Exciting Designs For Christmas In July 2021
It's always fun to look back and remember how much joy it gave me to create Christmas collections for you! And guess what? In my new role with the Scott Brothers, I'm working along side Jonathan and Drew designing pieces for 2022! Things are already underway! You can read more about my return to QVC with Scott Living, here.
We have a Scott Living Holiday show for you in November this year too. Fun plaids, some lodge inspired looks and a fantastic tree! The guys LOVE Christmas, so it should be tons of fun.
I found a few Scott Living items that are part of QVC's Christmas in July sale that you might want to check out too.
Like this cute illuminated tree...so many possibilities and under $20!!
Click HERE for more details on the tree.
And on the other end of the spectrum, this oversized sleigh, with stars and bells, is great outside by your front door, or indoors when you want a WOW!
Click HERE for information on this sleigh.
And if you LOVE the HygroCotton/Tencel sheets from Scott Living, there's a holiday set you might like!
Click HERE to see the pattern choices, from stripes to plaids and other holiday motifs.
My Top 10 Christmas In July Items From QVC
In the meantime, I have seen quite a few fun Christmas in July items on QVC, so, I thought I'd share a few things I think would be beautiful additions to any holiday home.
Mr. Christmas Vintage Ornament Set
These ornaments remind me of the ornaments we had on our tree when I was a child. I love the way these vintage style ornaments are packaged too! Click HERE to see these in detail.
Set of 3 Spheres by Valerie
I know these aren't necessarily a new item, but these illuminated spheres are timeless and can be used in so many ways. A great decor investment for your home!
Click HERE to see the color options for the spheres.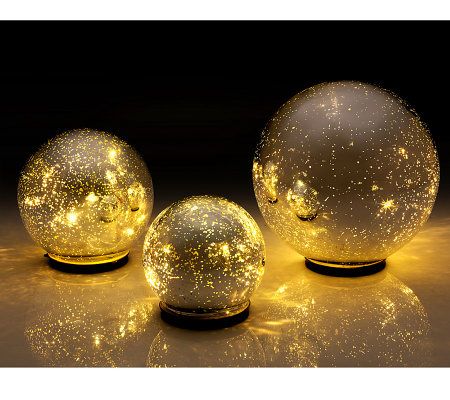 Luminara Pine Cone Candle
If you love to decorate in metallics and white, this candle is absolutely stunning! Imagine it in your white kitchen for the holidays too. A simple statement!
Click HERE to see more details.
Snow Berry and Pine Decorative Picks
Nobody does decorating picks better than Valerie Parr Hill. I love the fullness of these snow berry and pine picks. And how cute is that touch of red and black buffalo check?
I always buy 2 sets of picks because I use them in my Christmas tree, but also in a vase, scattered on the mantle, on a napkin at a place setting….they're so versatile!
Plow And Hearth Illuminated Figurines
I fell in love with these illuminated figurines from Plow and Hearth. They bring a smile to my face when I look at them.
Click HERE to see the choice of designs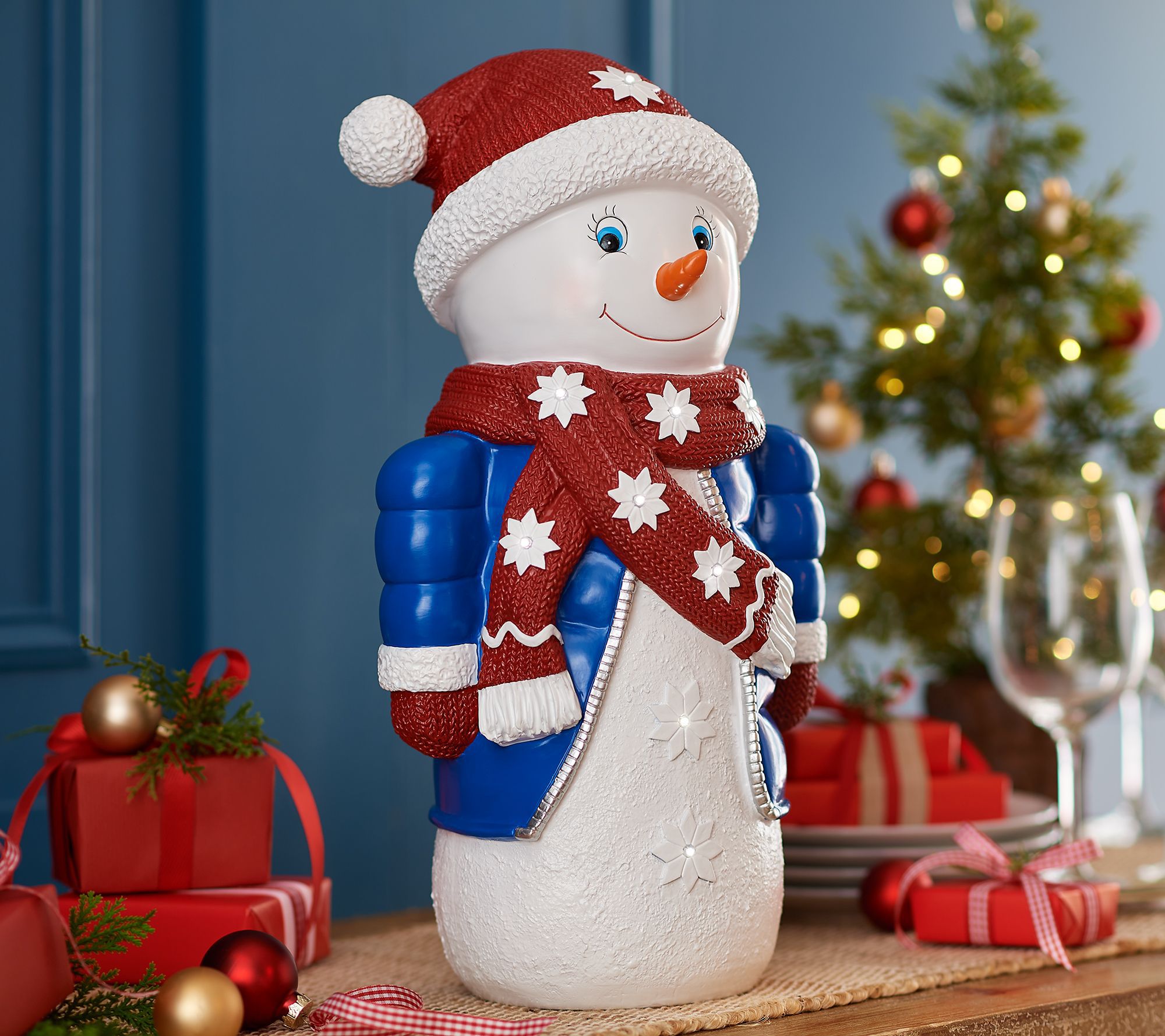 Lightscapes Set Of 3 Illuminated Figurines
I love this little trio! The motifs are just darling and I like the size because you can nestle them just about anywhere!
Click HERE to see these adorable holiday accents.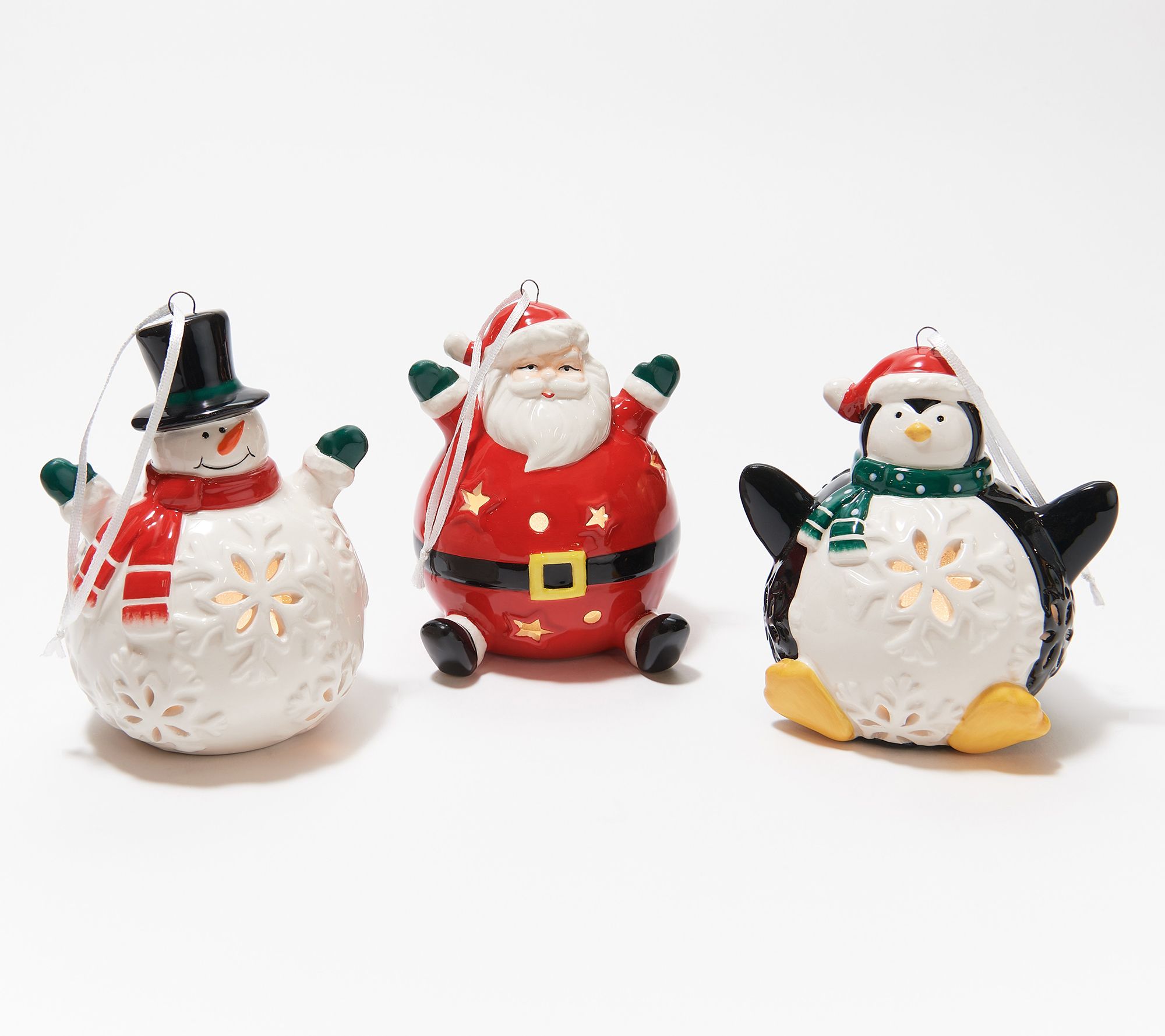 Frosted Berry Urn Filler
I'm a huge fan of urn fillers for outdoor holiday decorating. If you're like me, you have a plethora of empty planters and urns that you leave out in the winter, so why not make them look festive with very little effort?
CLICK HERE for these illuminated urn fillers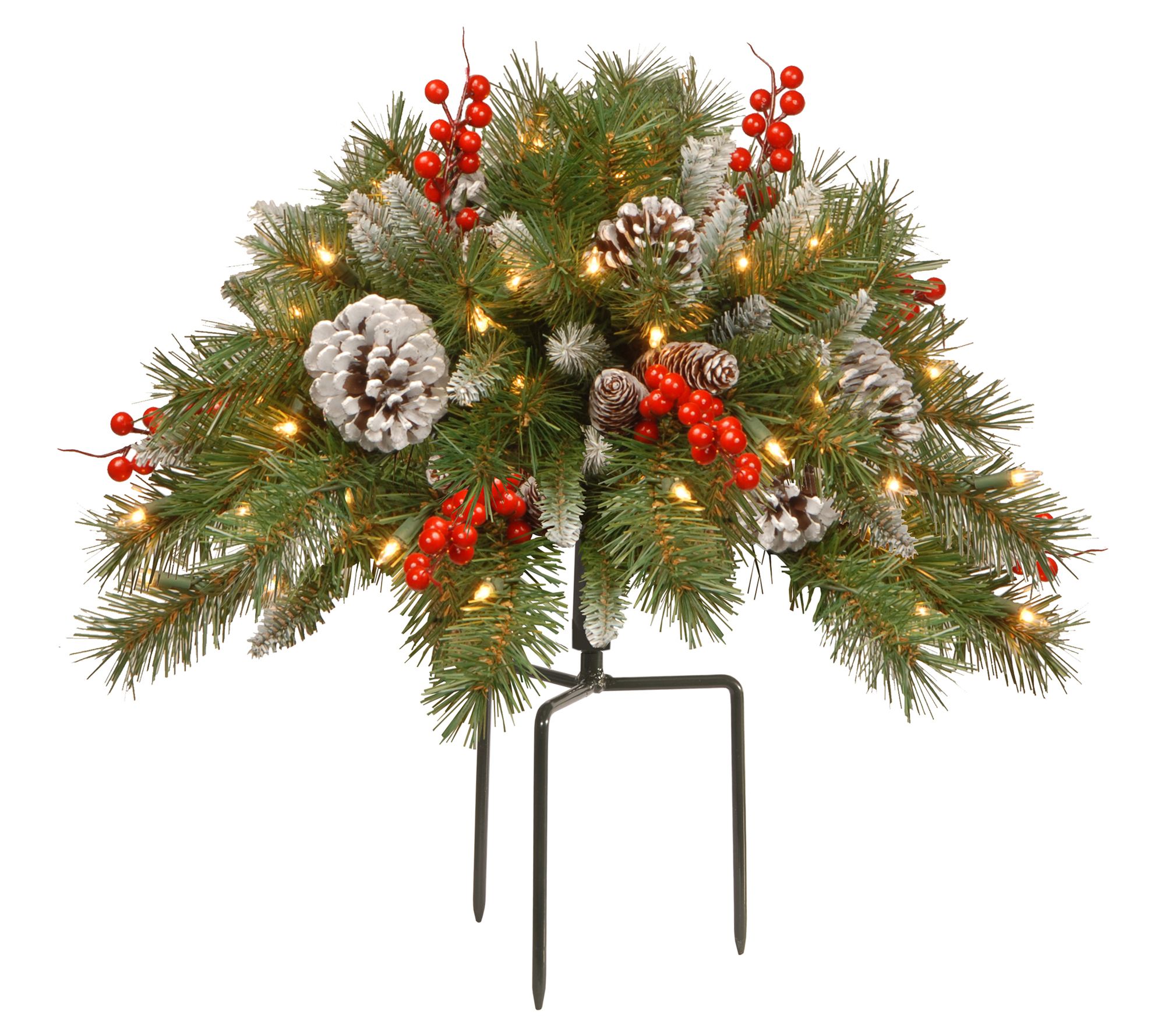 I consider these illuminated fillers another investment item in your home decor. If you only use 2 of these, one on each side of your front door or garage door, you'll have a tasteful and pretty look for the holidays.
Merry Christmas In July!
I hope you enjoyed this little trip down memory lane with me, looking back at the Christmas in July of the past and taking a look at Christmas in July present!
But remember, it is STILL summer….so while it's always fun to think about the holidays, let's not forget to enjoy the sun, beach, and all that comes with this season too!
From my home to yours,
Jill