The most common question I am asked when people learn about my many years as a host on QVC is "which products were your favorites?"
Talk about a hard question to answer! I was there for over 25 years and presented thousands and thousands of products. And yes, I shopped quite a bit too!
But I'm not going to lie… like any consumer, there are some brands I like better than others, some versions of a product I prefer more, and yes, there are products I presented that I probably would never buy myself.
I never saw it as my job to LIKE everything. And, funny enough, I never really saw myself as a sales person. Weird, right?
I guess my approach was to simply be a product reporter for the audience. I tried to gather all of the information I could about a product, ask as many questions as I could, touch it, explain it, and share all of that with the millions of QVC viewers.
In the end, it was up to the customer to decide if a product was right for them. And if it wasn't, that was ok too.
I never wanted a customer to get something home that they had purchased from one of my presentations and think, "Jill Bauer really steered me wrong on this one!"
My Favorite Decor Items From QVC
The home decor category was one of my favorites to present.
When I put together ideas for the show I hosted, "You're Home With Jill," there were certain products that I felt were great investments for your home because they worked year round. Take a look at some of my favorites.
I don't know what I would do without my Luminara candles. I use them everywhere. They glow in my home every day. They are practical, decorative and add a visual warmth that equates to cozy.
There are so many Luminara shapes and styles to shop for, but if you're just getting started, the classic pillars will never steer you wrong.
A close second for me, right behind flameless candles, is lanterns. I LOVE LANTERNS! Here's a picture from our backyard last summer to illustrate the point!
QVC has so many great options to choose from. I have many Luminara and Candle Impressions Lanterns in my home. But if you have an overload of flameless pillar candles, find a lantern that is empty and transform. Below you'll find a few of my favorite lantern styles.
Another item I loved to present was a decorative tray. The possibilities with this kind of piece are endless! I like to use this as a finishing touch on a kitchen table, an ottoman, a coffee table or a dining room buffet.
Trays like this are also great during the holidays when you want to create little vignettes or themes.
There are many to choose from, but I have to tell you, my absolute highest recommendation goes to the beveled mirror piece by Valerie.
I own two. They're always out and are the foundation of my living room and dining room decorating.
From candlescapes to floral arrangements and more, this a simple, easy classic piece for your home.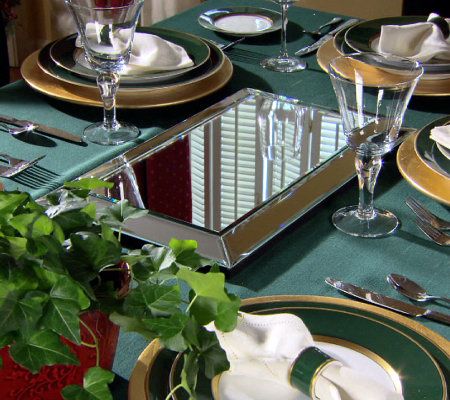 I know a lot of people like to change out wreaths with the seasons, but if you're looking for just one style that will look great year round, check out the wreath below. A simple change of a hanging ribbon could make this look as festive in November as it will in your home right now.
Leave it to Valerie Parr Hill...her wreaths are the best and she has so many to choose from!
My Favorite Bedding From QVC
QVC has a lot of bedding options to choose from. I feel like I've tried just about every make and model of sheet sets out there! But there are certainly standouts for me, so take a look at my favorites.
These sheets by my buddies, Drew and Jonathan Scott, are probably my most favorite. The sheets are blend of cotton and tencel and feel amazing and help to keep me cool at night. I also love the way the sheets easily fit on the bed with their flexi-fit. They wash beautifully. I'm a total fan.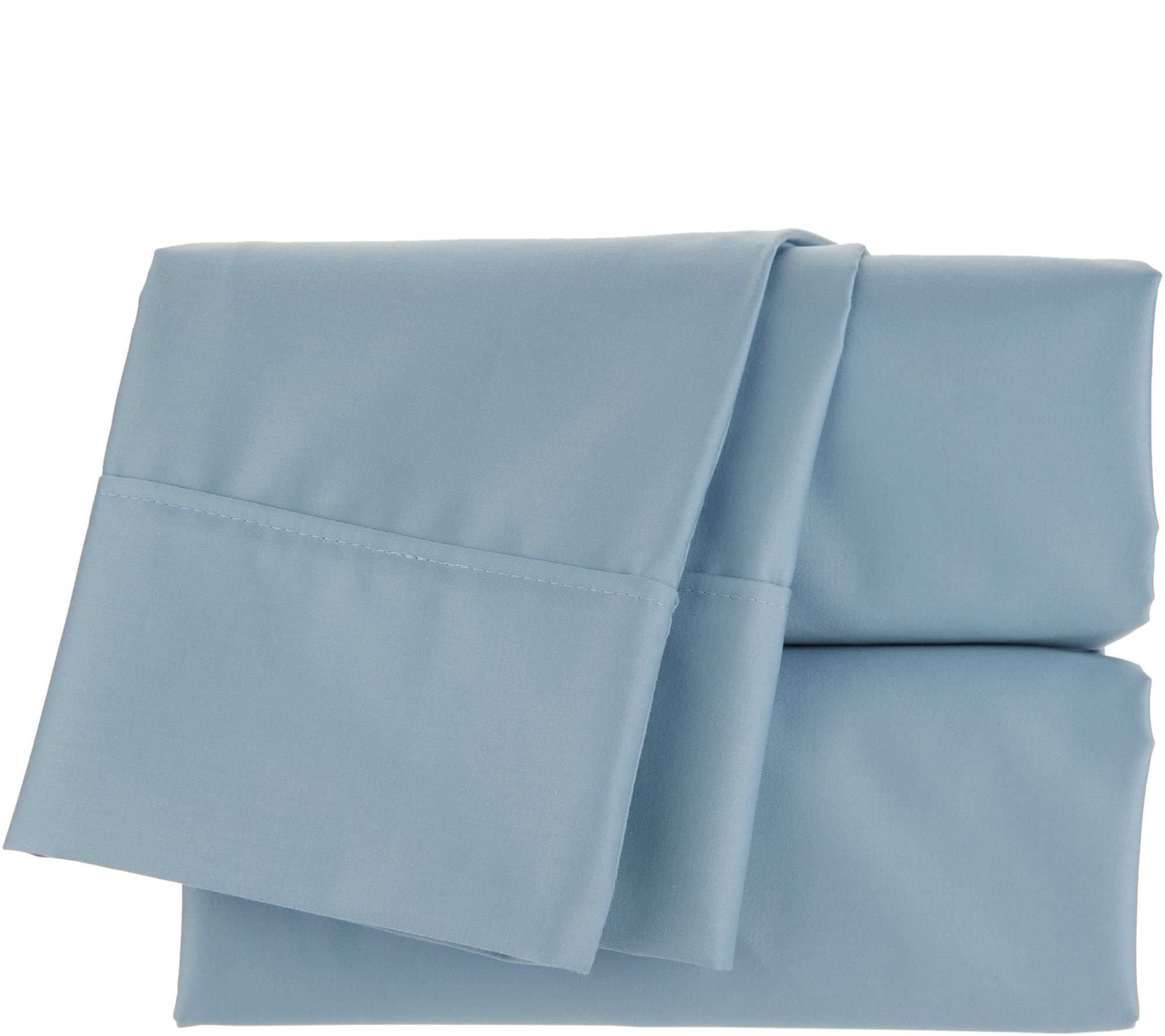 And if you're looking for a higher thread count cotton sheet, but don't like the wrinkles, then I would also recommend these wrinkle defense sheets from Northern Nights. They also wash well, and come out of the dryer looking a bit more smooth.
I find 500-thread-count to be the sweet spot for me… not too heavy of a sheet, but still a nice, drapey feel.
If you're looking for a good mattress protector, I really like this one from Casper. It's waterproof, but doesn't have a crinkly sound when you're sleeping. When you're spending a lot of money on your mattress, it's worth the little extra to protect it with one of these.
My son, Trevor, only likes to sleep with a blanket. No top sheet. Just a big, soft, puffy blanket. I got him this one from Berkshire Blanket and he loves it.
I like it because it makes it easy for him to make his bed (no more excuses!) and it looks nice on the bed top. It also washes great and keeps its softness. A great find!
My Kitchen Favorites From QVC
I love spending time in the kitchen and playing around with recipes. And I'm a firm believer that spending a little more to get better quality for kitchen essentials and equipment is worth it.
I doubt there are any surprises below…but perhaps the endorsement will give you confidence if you're considering the purchase. All of these items were self purchases, not freebies, so I stand behind the quality and the investment because I spent money on these items and they have served me well.
I never thought a blender could be worth several hundred dollars until I saw the Vitamix in action and read all the amazing reviews. When I got mine (over a decade ago) I was hooked. And I still am.
The quality is awesome, the performance is unmatched and it's probably one of my top 5 recommended products of all the things I've come across over the years.
From homemade peanut butter and my snickerdoodle hummus recipe , to soups, salsas, smoothies and more, I use my Vitamix every chance I get. There's a reason why it's always out on our counter!
This All Clad electric skillet is one of my favorite kitchen helpers. It has a huge capacity (7 quarts!), perfect temperature control, and all the performance you'd expect from this prestige brand.
When I entertain, I always seem to need to keep something warm, or need an extra burner to cook and this electric skillet is perfect for that. It has a PFOA free non stick (just make sure to use silicone or wood utensils to keep the interior looking its best) so clean up is a breeze.
I had to throw in these cute new designs from Scrub Daddy.
Are these not the cutest? I never thought I'd say a sponge is cute, but these sweet puppy shapes have won me over! I'm a huge fan of Scrub Daddy products because they work and last longer than regular sponges and they don't get smelly, And if you're a cat lover, they have those too!
I have multiple pairs of these pot holder gloves from Temp-tations. I use them as much to take things out of the oven as I do as a pot holder under a pan that I need to set down on the counter or table. They wash up well and I find them so much easier to use than a big oversized mitt.
Some Favorite Beauty Items From QVC
As much as I was associated with all things home when I was working at QVC, I have so many people asking me about my beauty and skin care preferences.
I think there is a lot of trial and error when it comes to beauty items since we all don't have the skin types, tones or issues.
But I put together a list of some of the things I like and put images into a collage below. Just click on any of the pictures in the collage to learn more about the items.
Lip Gloss Favorites
MAC Cosmetics Lip Glass– shades I like are All Things Magic (a great same as your natural lip color nude), Love Child (a nice rose/mauve) Nymphette (the BEST gold/peach shimmer to tone down darker shade or add a pretty pop over lip liner)
BUXOM Lip Polish– My favorite shade is Dolly, which is a nice mauve.
BUXOM Plump Line Liners– This is a great 4 piece set. I like the liners because the fill in the whole lip well and with just a touch of gloss on top, you have an easy makeup look.
Bobbi Brown Gel Eye Liner– My favorites are black and espresso. It's long wearing and gives a beautiful line.
LANCER Cavair Lime Peel – I was responsible for turning the merchants at QVC onto this brand. I love many Lancer items, but this peel is really amazing. It makes my skin look brighter and it feels so smooth. No tingle or burn either (at least on my skin). If you don't do any kind of deep exfoliation like this, it will be a game changer.
Too Faced Foundation – I discovered this foundation over a year ago and really love it. It gives a nice finish that doesn't look heavy, yet it still overs flaws and imperfections. I wear Light Beige.
Tatcha The Pearl– I can't live without this product. It's the most beautiful soft light under the eye area. Don't mistake this for a concealer. It goes on before the concealer to illuminate and treat that area. On no make up days, I can wear this to slightly even out the look under my eyes, but under a regular concealer or foundation it's magic. Make sure you spend the time to properly apply… when I first tried this I didn't like it at all… then I learned I wasn't tapping it into my skin enough. The extra 30 seconds is worth it!
Philosophy Fresh Cream– I like all of the iterations of Fresh Cream from Philosophy, but the body mist and shower gel are probably my top two favorites.
Clinique Take The Day Off – In my opinion, the absolute best makeup remover out there. Be sure the shake the bottle before you use it, but if this doesn't remove stubborn makeup, I don't know what will.
MAC Eyeliner Pencil– If you're looking for an eyeliner pencil that doesn't dry out, isn't too slick and lasts, then this is for you. I just tried this recently and have already reordered. I use black and brown…those are my go to shades for all eyeliners.

Well, That's A Start!
Obviously, I left out a few categories like jewelry, clothing, and food. This blog would be days long if I included everything! But I promise I'll do some more of these QVC favorites blogs for you in the months to come. Let me know if that's something you'd like to see in the comments below!
From my home to yours,
Jill