There are so many places to use buffet lamps in your home.
So don't let the name "buffet" fool you.
The classic and simple nature of these lamps makes them really versatile for decorating.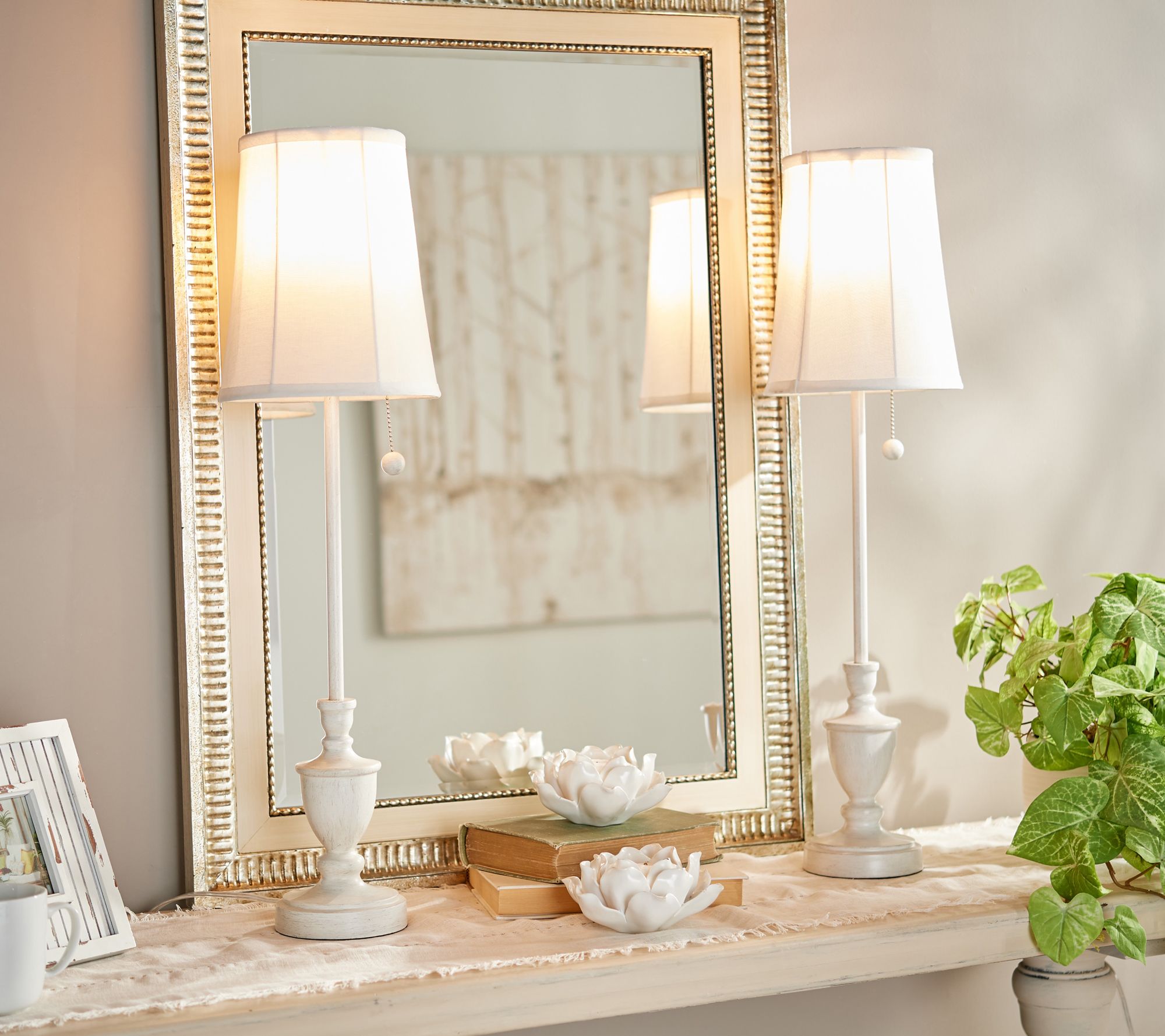 My friend, home decor designer, Valerie Parr Hill, added a set of 2 buffet lamps to her collection that I've been using in my home for a little while now.
I'm in love with her choices for finishes (from classic to farmhouse to glamour, there's a finish for everyone!). And the smooth urn style makes the design timeless.
I'm excited to share with you the many places I'm using these lamps to decorate my house. I hope they inspire some new ideas for your home!
*Post includes affiliate links
Why Use Buffet Lamps?
I consider buffet-style lamps to be total chameleons when it comes to decorating.
They can make a statement, blend into their surroundings, or simply add that touch of something that is often needed to make a space feel more complete.
Their long and lean silhouette (oh! how I'd love to be able to use those words to describe MY silhouette!) create visual interest without dominating the space.
Let's Use Different Lamp Colors
While the only color available right now is slate blue, I was able to purchase a few colors a while back.
I was curious to see how the color of the lamp I used might change up the vibe of the space. So, I decorated a console table in my home, and then I styled it with three different lamp colors.
Take a look below at how changing the lamp base color (and nothing else) makes the space feel different with each tone.
I started with the ivory lamps, which seemed like an obvious choice in a coastal home.
I like the idea of the antiqued white playing off of the white-washed console table.
There is also a lot of white around this area since the table sits next to the oversized white mantle. So, it all worked together.
I love a room that uses shades of white. It softens the starkness that white sometimes emits.
You can find a similar white/ivory buffet lamp HERE.
Next, I tried the bronze. My feeling going into this setup was that the base color would be too dark.
However, since there is bronze hardware on the console, it became a great place to use the bronze buffet lamps.
The sailboat painting also tied this look together with all of its rusty and warm tones.
While I normally wouldn't think to use bronze as a metal in coastal decor, in this little "vignette," it worked like a charm!
You can find another great bronze buffet lamp HERE.
Finally, I tried the slate blue. The color is really more of an antiqued sky blue, as I didn't see a lot of grays that are usually in a "slate" shade.
And let's face it… sky, blue, coastal. Is that a trifecta or what?
The blue lamps are a fresh contrast to so much of the navy that surrounds the space. And the subtle distressing plays nicely with the whitewash look of the console.
I've always been a fan of warm tones with a cool blue. So, the color looks great with the warmth from the painting and the hardware.
While I could live with all 3 of these color choices in this space, my vote goes to the antiqued slate blue. I just love it!
Where Else To Use These Buffet Lamps?
I think a better question is where CAN'T I use these lamps?
Whether you use them as singles or as a pair, you can use these lamps almost anywhere!
Here's what they look like on our fireplace mantle. This room has high ceilings, so I need something taller to make a statement and be seen.
I also like using these buffet lamps on a console table that is set up behind the sofa.
Most console tables are of a length that using a pair works, but don't be afraid to use just one if you have other things you like to display.
I liked using the bronze here because when you look through the items on my coffee table, there's a little synergy with the metal tones.
And what about some of those smaller areas that just need a little something?
I created a cozy nook in this window seat with just one of the lamps. Are you ready to curl up with a cup of tea and do a little reading?
A landing with a smaller accent table is also a great place to use a single buffet lamp. It adds that soft hint of light in an otherwise dark area.
Remember, when it comes to decorating, light is as important to the decor as color and texture. To me, it's the game changer!
More Traditional Places To Use Buffet Lamps
My home in Pennsylvania is much more traditional in design than the beach house above.
And because these lamps are so versatile, they look right at home here too.
We repainted the interior of our home a little while ago, and I've been moving furniture around to freshen things up.
In our entryway foyer, I'm now using this smaller console table instead of the heavy armoire that used to be here.
Using the console table really opened up the space, which I love.
But because of the high ceilings, I needed something a bit more substantial to make the scale of everything feel right.
Enter the buffet lamps!
I'm using the antiqued silver choice in my foyer to play off of the silver mirror that is on a nearby wall. There is also a touch of silver in the ornate and rustic chandelier that hangs above.
The reason I stayed away from the black and the bronze here is I didn't want to add any more darkness.
I love a little sparkle, and the brushed and antiqued silver choice looks perfect since it plays off of the other silver touches. It feels very designed for the space.
The Dining Room Is The Most Obvious Place To Use Buffet Lamps
Our dining room table, server, and china cabinet are antique heirlooms from my husband's family.
Doug's mom ALWAYS had buffet lamps on this console table, and so of course, in memory of her, I thought it would be nice to use them here too.
I tried to update the look of the dining set to tie into the style of our home by using a bronze light fixture and suede chairs with a bronze nail head accent.
Those bronze touches are what made it easy to work the bronze lamps into this space.
I don't know about you, but we really don't use our dining room that much. But I love to decorate this room!
The lamps just finish everything off.
Even if there is minimal decor, the space looks complete because of the lamps. My mother-in-law would be so happy.
A Smart Investment
I have to share one more reason why I'm loving these lamps and think they are such a nice and affordable investment for your home.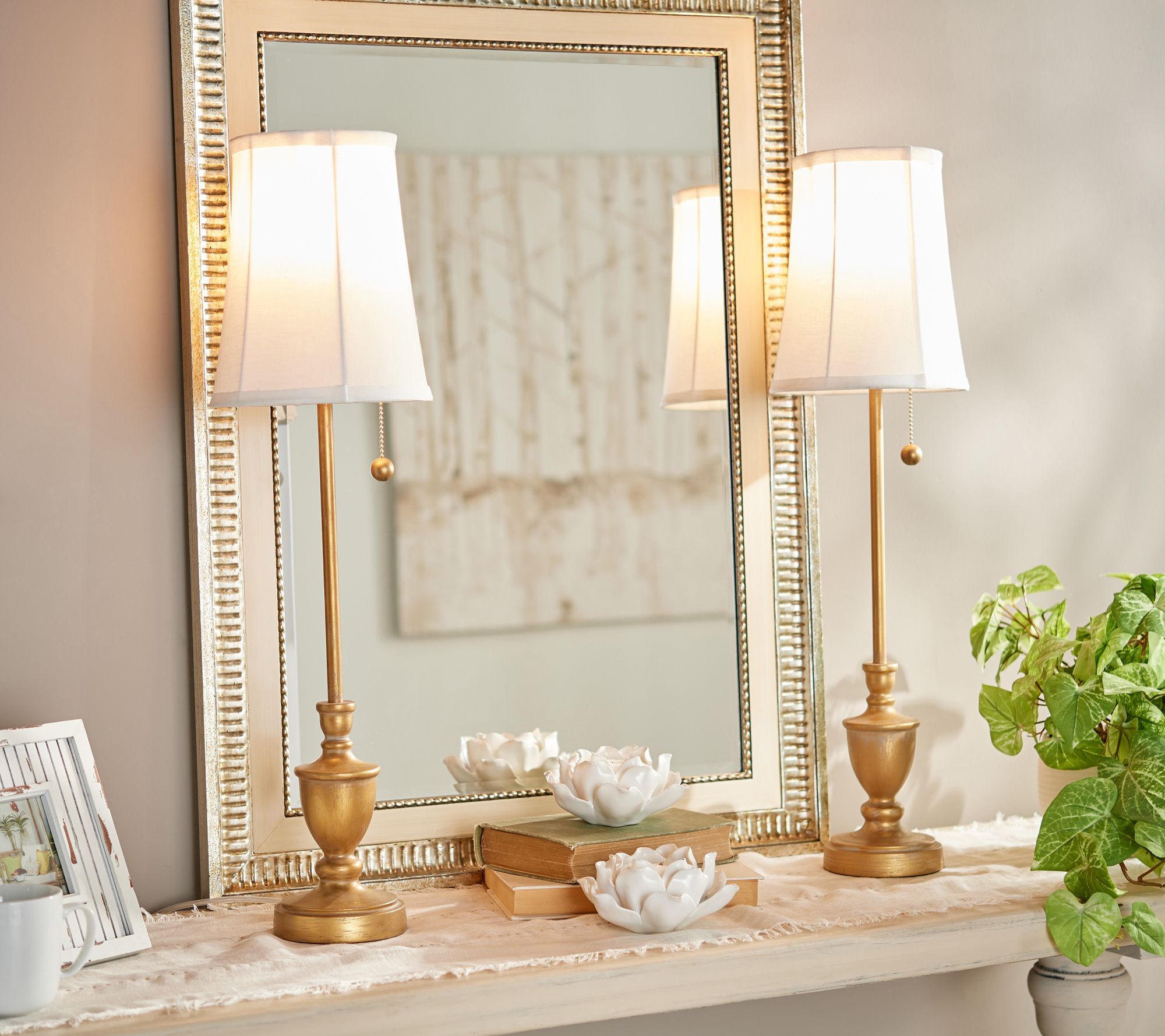 While the lamps come with white shades (they even come with light bulbs too!), you can always switch up the look by changing the color or shape of the lampshades.
There are three colors of lampshades that Valerie designed to change up the look of your buffet lamps.
This is where you can really have fun with these lamps! Play around with some different color shades with your base to tie into seasonal decor or for an inexpensive makeover!
Let There Be Light!
I hope seeing how I'm using these lamps at my house inspires you to try using these lamps in your own home.
They really are so versatile and there's likely a spot in every room in your home where these will work.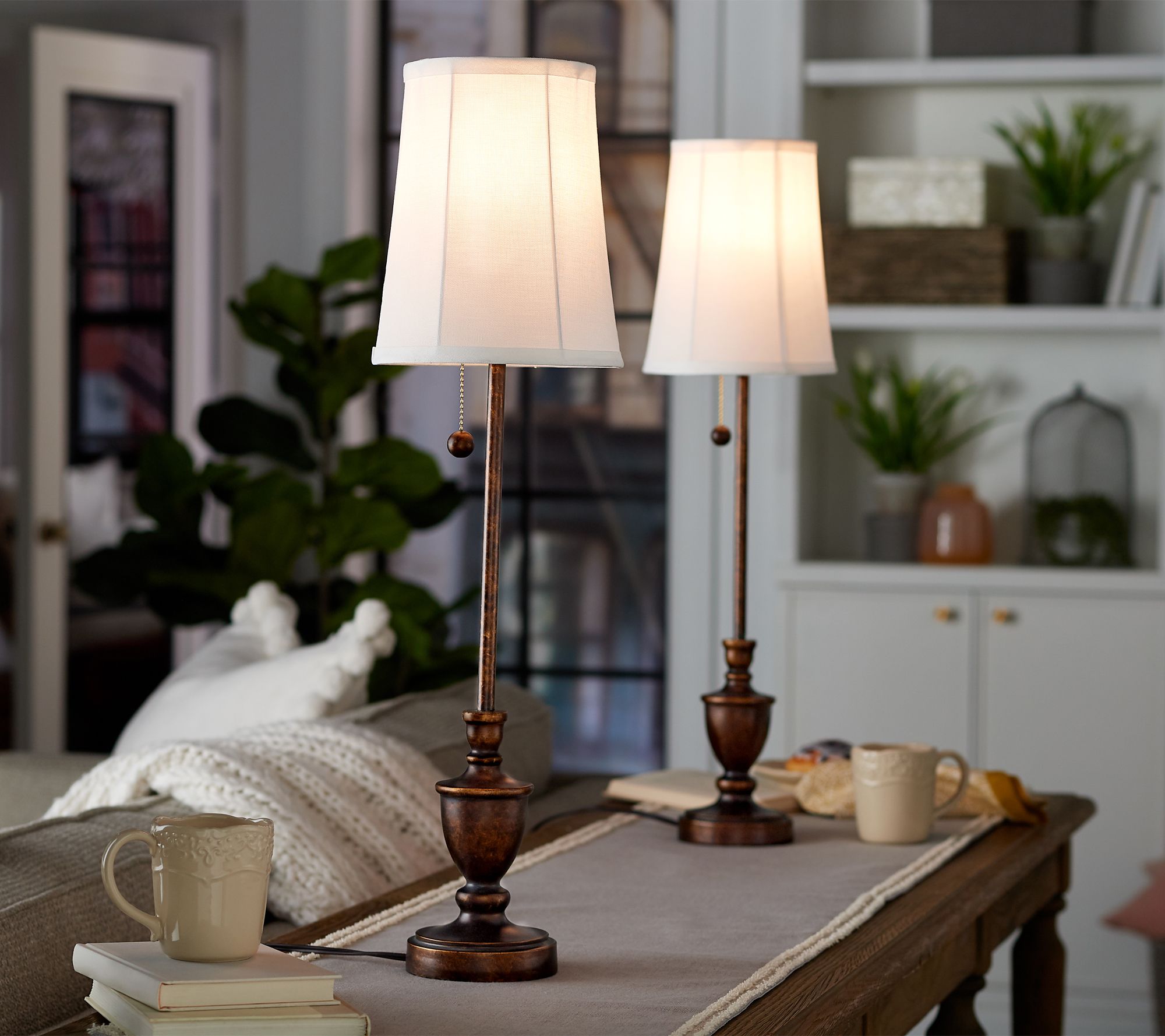 And a quick tip!
This set of 2 lamps comes with the lampshades and the light bulbs but does require minimal assembly. In order to twist the stem of the lamp into the base, be sure to GENTLY pull the cord that is coming out of the base so that the extra cording up top threads through.
You shouldn't be trying to shove the extra cord down into the hole of the stem. Hope that helps!
Where Will You Put These Buffet Lamps?
I'm anxious to hear how you're using lamps like these in your home.
And remember, just because you start with these lamps in one spot in your home, don't be afraid to change things up and use them somewhere else later in the year.
Once you have versatile pieces like this, you can refresh your home by using what you have instead of always feeling like it has to be brand new!
---
Oh, and if you scroll to the bottom of my blog, you'll find some more buffet lamps you can add to your home. Just click on the photos to shop!
Happy Spring Decorating!
From my beautifully illuminated home to yours,
Jill