Do you need to organize your desk? Not just straighten it up, but really tackle the chore of organizing your workspace?
I've found 5 easy ways to organize your desk that work well for me, and I hope they help you too.
I'll admit… I'm a "shove it in a drawer" kind of gal when I don't have systems and tools in place to keep my desk clutter-free. That includes my kitchen table when I'm working from home!
Related: How To Clean Your Home In A Few Simple Steps
But I've learned some simple tricks and found a few tools that really help me keep the clutter to a minimum. They also help me find what I need when I need it.
It's amazing how simple methods can really help keep things streamlined and functioning. And I know I function better in a clutter-free space!
*Post includes affiliate links
The Easiest Way To Organize Your Desk
Okay, here's the truth. The easiest way to organize your desk is to start with a purge of everything in the drawers and on the desktop.
Did I lose you? I know, it's the hardest part of any organizing project…
It seems overwhelming, you don't know where to start. Am I right? But you're not alone… it overwhelms me too.
Clutter in your workspace competes for your attention. It robs you of time, focus, and creative freedom. In other words, a cluttered space equates to a cluttered mind! It's really true.
So let's not look at the WHOLE desk, with all of the piles of papers, sticky notes, and hodgepodge drawers. Look at one part of the desk. And purge that. Then move to the next part and clean that out.
No one is telling you this has to be done in one big multi-hour time block. For goodness sakes, start with a single drawer! The key is, you just have to start.
Your Desk Organization Roadmap
Much like home decor, when it comes to organizing your desk, placement is everything.
So here are a few things to keep in mind when setting up your desk to maximize your productivity and minimize the clutter.
1. Keep Your Computer In The Center Of Your Desk
By keeping your computer in front of you, you have a focal point. It keeps you "centered."
It also allows for better organization on each side of you (as opposed to that monitor that you may have set up in the corner of the desk, which allows for a lot of clutter wasteland on the rest of your desk!)
And from an anatomical point of view, it allows you to sit straight up, looking forward, without putting any extra stress on your neck or wrists.
As a side note, be sure to invest in a really good, supportive chair. It's so important for adults, but also for your virtual learning students too! I use this Tempur-Pedic office chair and I find it very comfortable for long days sitting at the computer!
2. Have A Charging Station And Corral Those Cords!
Everything needs to be powered and charged these days and that means cords, cords, cords! Which doesn't exactly bode well when you're looking for ways to stay organized.
But, have no fear. I found a couple of great hacks and ideas that really help with cord clutter!
I love this idea from the blog at From House to Home. Here, a letter organizer and binder clips are turned into a charging station.
The clips help to keep the charging cables close at hand and the letter organizer is perfect for your phone, tablet, and even a smaller laptop.
This creates a small footprint on your desk for multiple things and keeps them out of your way while they're charging, but still easily accessible.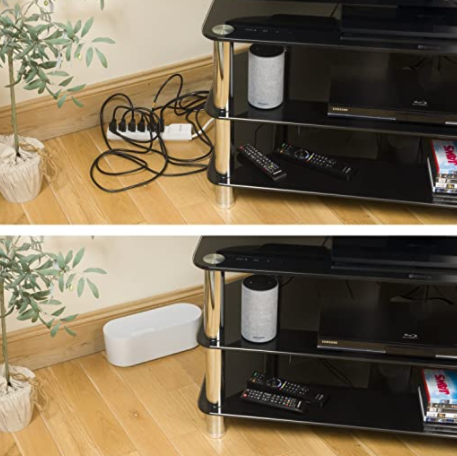 And for all of those unsightly cords and power strips? This cable management box works great for all of the computer, monitor, and printer cords that are tangled up under your workspace.
You may also want to consider a mesh-like tubing that keeps all of your cords neatly gathered. It also helps protect the cords from curious pets that like to chew on everything!
3. Organize Commonly Needed Items On Your Dominant Side
Think about it. If you're right-handed, isn't it easier to have the things you need within reach of your right hand?
So, depending on which is your dominant side, that's the side of your desk where you should be organizing the most commonly reached-for items.
Have a space for your notebook and pens, a spot for your charging station, and have your "in" and "out" bin on this side as well.
We're trying to make your workflow more fluid. This small adjustment can make a big difference!
This is also a good thing to keep in mind when you're shopping for a new desk. If the desk only has drawers on one side, make sure it's on your dominant side to make access easier.
So what should you keep on the non-dominant side of your desk?
This space should be reserved for things that aren't central to your daily work tasks.
Perhaps color-coded files that you use at the end of each week. Or a couple of manuals or books. This is a great spot for a lamp or those personal touches like a few photos (notice the word, FEW) or a small plant.
Ways To Organize Your Desk Drawer
When you're looking for ways to organize your desk, the drawers are often the hardest to keep tidy.
It's just so easy to throw things you don't have a place for into a drawer. I mean, what harm can a few extra Sharpies do? You know the answer… So do I.
When you get into the habit of just shoving things into a drawer, what starts as a few small things can turn into a junk drawer. That's not going to help your productivity when you're trying to stay on task.
I really like to use utensil drawer organizers from the kitchen to keep my office drawers neat.
But if you want to create a more custom look, find various drawer organizing bins to fit your drawer exactly.
And if you find that you just don't have a lot of drawer or storage space in or on your desk, I really like small trolley carts that are slim enough to roll next to your desk.
They still giving you some places to keep file folders, extra papers, or other supplies!
Ways To Organize And Decorate At The Same Time!
Speaking of file folders, one of my favorite office supplies to buy is pretty file folders. I have more file folders than I have files, but I really like to have pops of color or inspiring prints in view when I'm working.
They just make me happy. You know me, whenever I can work in a bit of decor, I'm going to do it!
Below you'll find a collage of practical and stylish decor elements that will keep your organized desk looking chic! Just click on any of the photos in the collage for more details.

Organized And Ready For 2021
I hope these tips help you clear the clutter from your workspace. Remember, while the task of cleaning your desk may be a big one, if you tackle it one portion at a time, you'll be organized in no time!
Be sure to check out some of my other blogs for more tips on how to organize other areas of your home. You'll find great tips on refrigerator organization, cleaning out your makeup drawer, and more!
Here's to a productive new year!
From my organized desk to yours,
Jill