If you're looking to upgrade your bathroom, but a total renovation is out of the picture, don't dismay.
There are all kinds of ways you can upgrade your bathroom without spending a fortune.
I'm always looking for simple and easy ways to make over rooms in my house. And here's the truth… when we bought our home in 2003, I loved everything about the home but I said to my husband, "those bathrooms need a major makeover."
Fast forward to 2021, and we've replaced flooring, gutted the kitchen, painted the house, replaced windows, bought new furniture… and the bathrooms? Still the same as they were in 2003. So believe me, I've become the QUEEN of finding ways to update the most dated of bathrooms!
If you're interested in any of the items I feature below, just click the BLUE HIGHLIGHTED words, for more information.
*post contains affiliate links
Upgrade With Color
I think one of the easiest ways freshen up a tired bathroom is to use color to set the mood of the room. And in many bathrooms, the best place to do that is with a new shower curtain.
I absolutely love this shower curtain I found at Kohl's. It's a heavier gauge fabric with a waffled texture, plus it is made from a 3M Scotchgard fabric that fends off excess moisture.
And can I just say, there is something clean and fresh and updated about a great stripe. This shower curtain comes in many colors, from neutrals and blues to coral and yellow. A fresh fix for a drab space!
A few sets of new towels are another way to add a simple upgrade to your bathroom. I happen to love the look of white fluffy towels for a spa like feel, but towels are another great way to add color to your space. I own the towel set below from Northern Nights and really like them. They are plush, absorbent and feel a bit luxe every time I step out of the tub or shower.
Just a tip when it comes to new towels…. always wash them before you use them for the first time and expect to have shedding in your dryer lint trap. This will dissipate over time. And don't overload your washer with too many new towel sets. It will throw the washer off balance.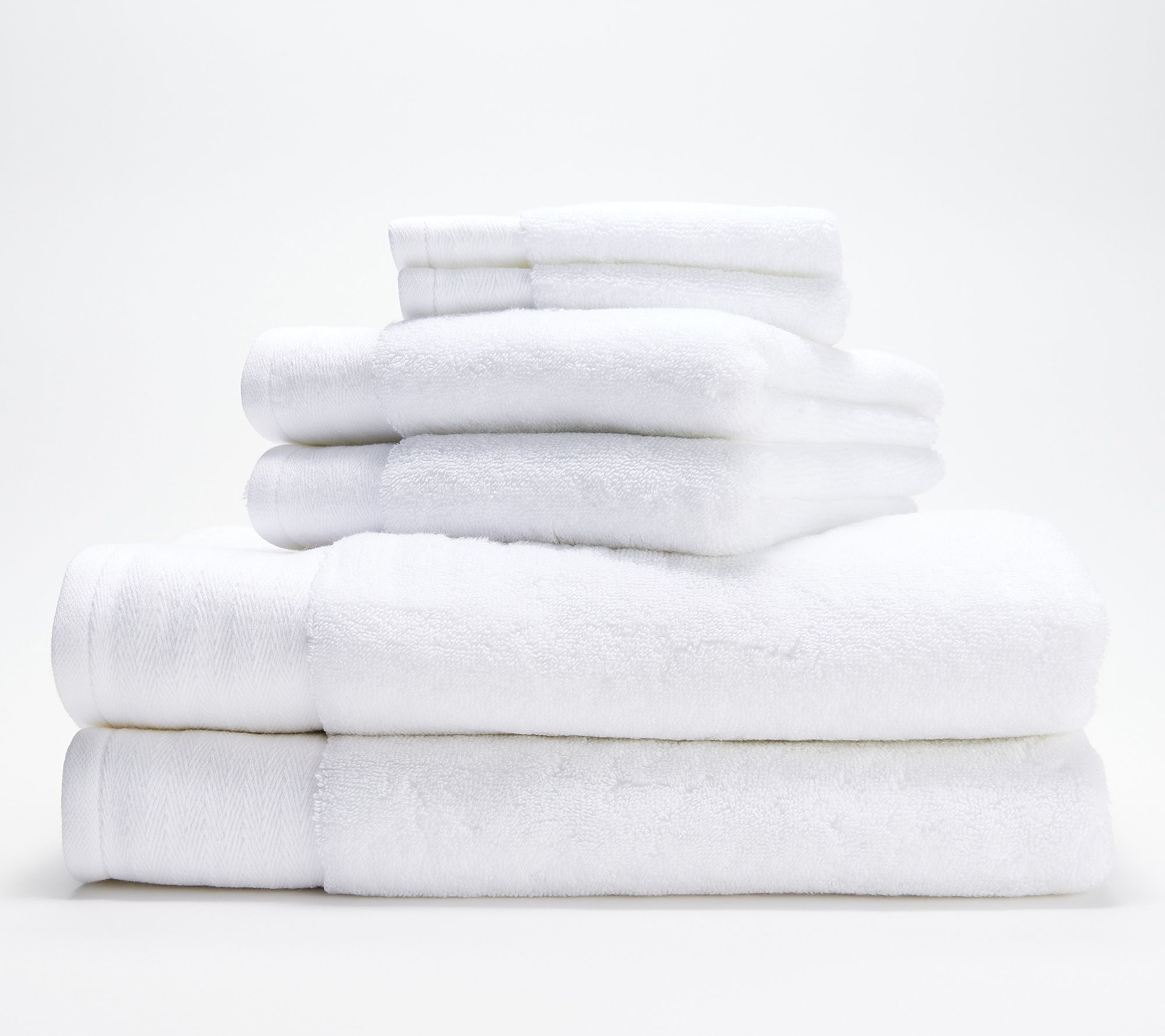 I'm totally intrigued by the idea of peel and stick wallpaper. And if I'm going to try it, a small space like the bathroom might be a good place to start.
I like the idea of using wallpaper as an accent, not necessarily on all walls. That's especially important to keep in mind in a space like a bathroom where steam and moisture could cause peeling.
Be sure the check the manufacturers directions and in the simplest of terms, keep wallpaper away from the sink or tub/shower areas as much as you can.
I'm kind of smitten with the look of grasscloth on an accent wall and this peel and stick option comes in several different colors that might work with your space.
Upgrade With Organization
For some, the simplest way to upgrade a bathroom is to declutter!
Start with removing items from the top of the toilet tank and as much off of the counters as you can. Don't panic! There are some great items that can give you a place to put things that will look nice and keep your space organized.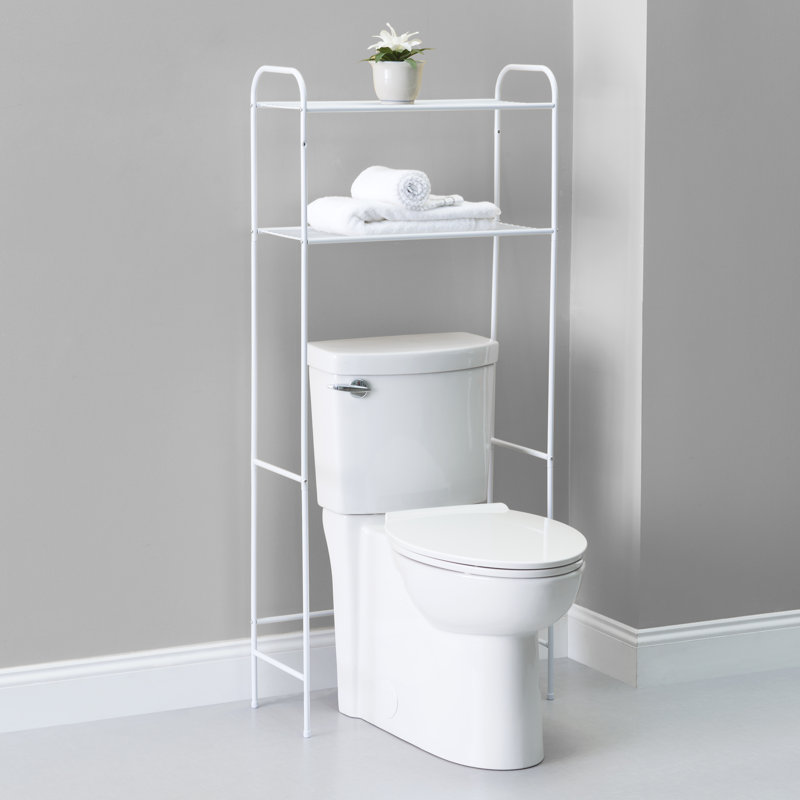 There are all kinds of over the toilet storage towers to choose from. Some have cabinets, have multiple cubbies and come in a variety of finishes. Since we're focusing on keeping things on budget, this tower from Wayfair does the trick. I would use some baskets like these on the shelves for a more finished and designed look.
Okay, why am I showing you a shoe organizer? Because if space is at a premium in your bathroom, you can hang this over the door and use the pockets for all of your larger bathroom items.
Lotions, brushes, curling irons, extra washcloths….they'll all have a home in this top rated organizer from the Container Store. It's really great in the kid's bathroom too if you a need a place to put all of those bath toys!
The back of a cabinet door is one of the most overlooked spaces for storage in most homes. This over-the-cabinet door organizer makes great use of that space by giving you the perfect spot to keep your hairdryer and other styling tools.
A two tier organizer is perfect for under sink bathroom storage.
I especially like these two pieces because there is a drawer on the bottom so that you can use the depth of the cabinet for all of your bottles and jars, but nothing will get lost in the back of your cabinet because you can slide the drawer out to find everything. I like the way the top unit has dividers to keep everything in its place.
A Little Luxury Upgrades Any Space
The bathroom is an easy space to add simple yet refined touches. My favorite way to do that is with my countertop accessories. From marble to teak to sparkly crystal and glass, there's no reason why the functional pieces that hold your soap and toothbrushes shouldn't go a little glam.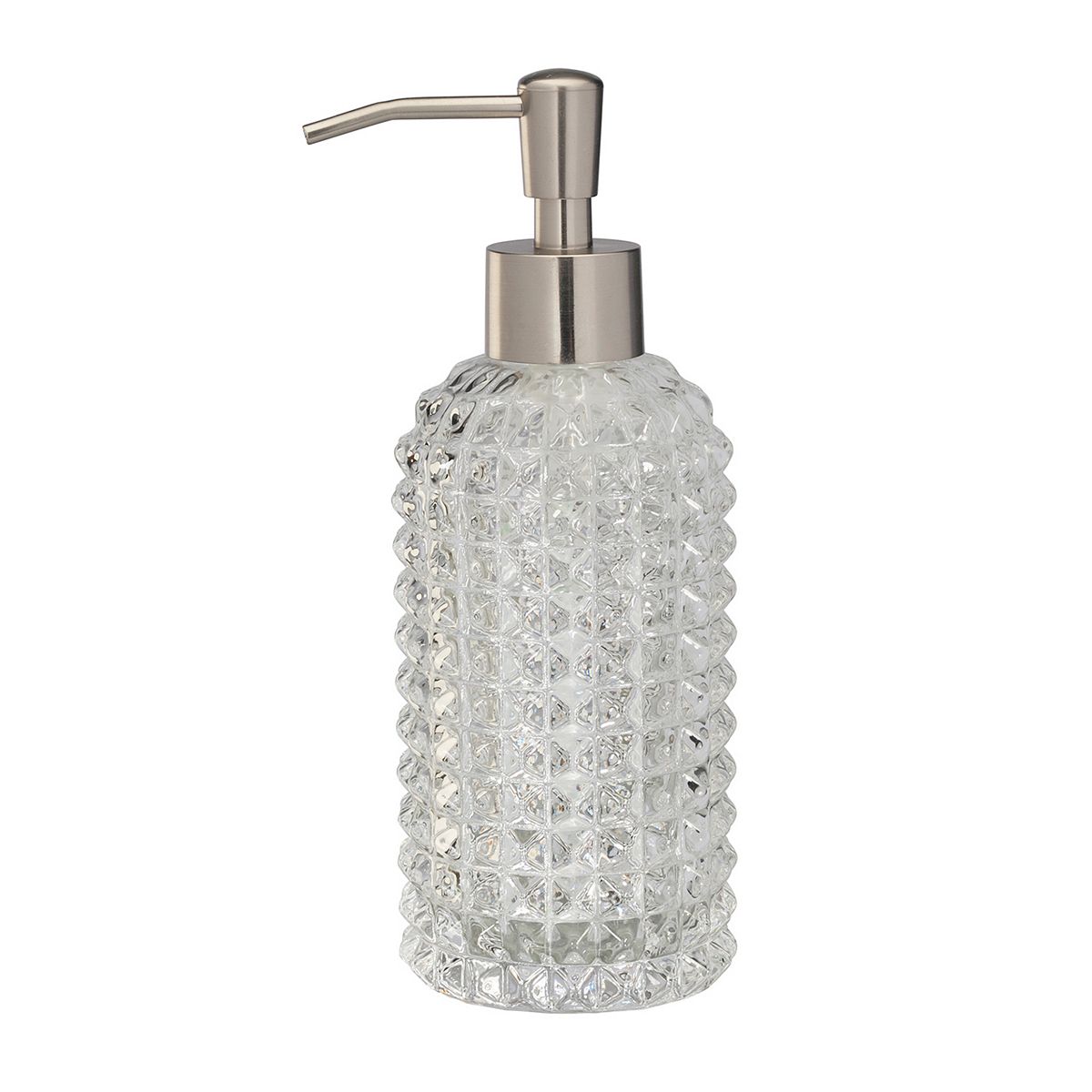 Since so many bathrooms feature a lot of white, I love the idea of adding sparkle! This collection features everything from soap dishes to tumblers to toothbrush holders. If you don't use a bar of soap, the soap dish is the perfect piece to use as a mini jewelry tray when you take off your treasures at night.
Something as simple as a new tissue box holder can add a bit of a luxurious upgrade to your bathroom. Stay away from metals…they look too cold. A textured white or a pretty pattern like the one above are quiet touches that seem to be the perfect finishing touch.
This Capri Blue fragrance is one of my favorite home fragrances, so I try to find every place in the house to use it that I can. I would describe it as clean with a hint of salty beach air.
I love using diffusers like these in the bathroom because the scent is constant, it is long lasting, and I like the look of the diffusers and the bottle on a shelf or ledge.
Finding a rug to use in your bathroom that isn't a furry mat isn't easy. I chose this one from Chilewich for our master bathroom. It's soft underfoot, but since it's designed for outdoors, the moisture of the bathroom doesn't cause any issues.
Spring Is The Perfect Time To Upgrade Your Bathroom
I think we're all ready to refresh our homes for spring. I hope these simple ideas offer inspiration on how you can upgrade your bathroom without breaking the bank.
For more Spring inspiration, be sure to check out my blog with 25 Spring Decor Ideas for your home.
From my home to yours,
Jill