I have loved the crisp, fresh look of blue and white for as long as I can remember.
Whether it's in decor with a nautical vibe, or a classic blazer with a pair of my favorite white jeans, navy blue and white are the equivalent of milk and cookies… they just go together.
In fact, when I decorated our home at the beach, I was in a navy blue state of mind.
Here's a video tour of our blue room where I share how I used this rich tone to really make a statement!
I've seen so many pretty ways blues and whites are being featured in design elements, so I thought I'd share some of my favorites! If you want more information about any of the items, just click the BLUE links!
*post contains affiliate links.
Blue And White Dinnerware
Sprucing up a table from season to season can really change the look of the whole room!
I absolutely love the patterns in these Marlo Thomas dinner plates. I think the designs work well alone, but really WOW when combined.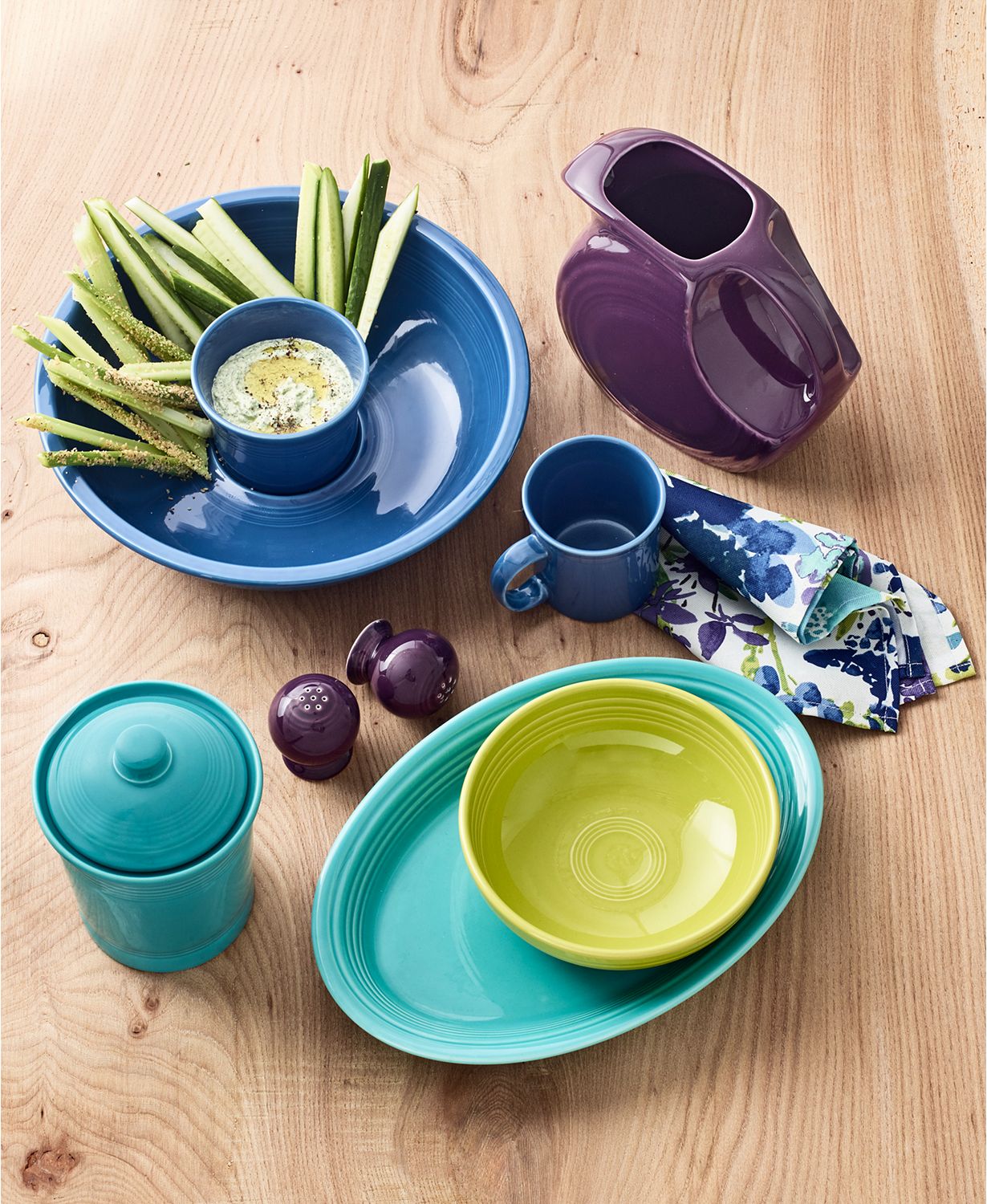 And whether you like to mix and match, or go tonal, I have always loved the blue color options in Fiesta ware!
Sure, you can find Fiesta in the navy family with colors named Lapis and Sapphire, but isn't it fun to see those tones mixed in with pops of Turquoise and Lemongrass?
Even the Mulberry purple works!
My wedding dishes are Fiesta Ware and I love that my table never looks the same because you never know how the colors are going to be stacked together!
Tabletop Touches
I don't know about you, but I love buying new placemats.
To me, much like a fresh accessory makes that little, black dress feel different, a new placemat under your everyday dishes is an instant update!
And when it comes to the navy and white palette, it seems like all patterns look great! I think this chevron design is really fun!
I'd love to see a pop of color with this… maybe a yellow napkin or a coral-colored plate?
I must have these woven, solid-color placemats in five colors…
They're affordable, clean up easily, and when I want to go with a pattern in my tablecloth, they're the perfect anchor for my look.
If you want a little table refresh, these placemats are a great place to start.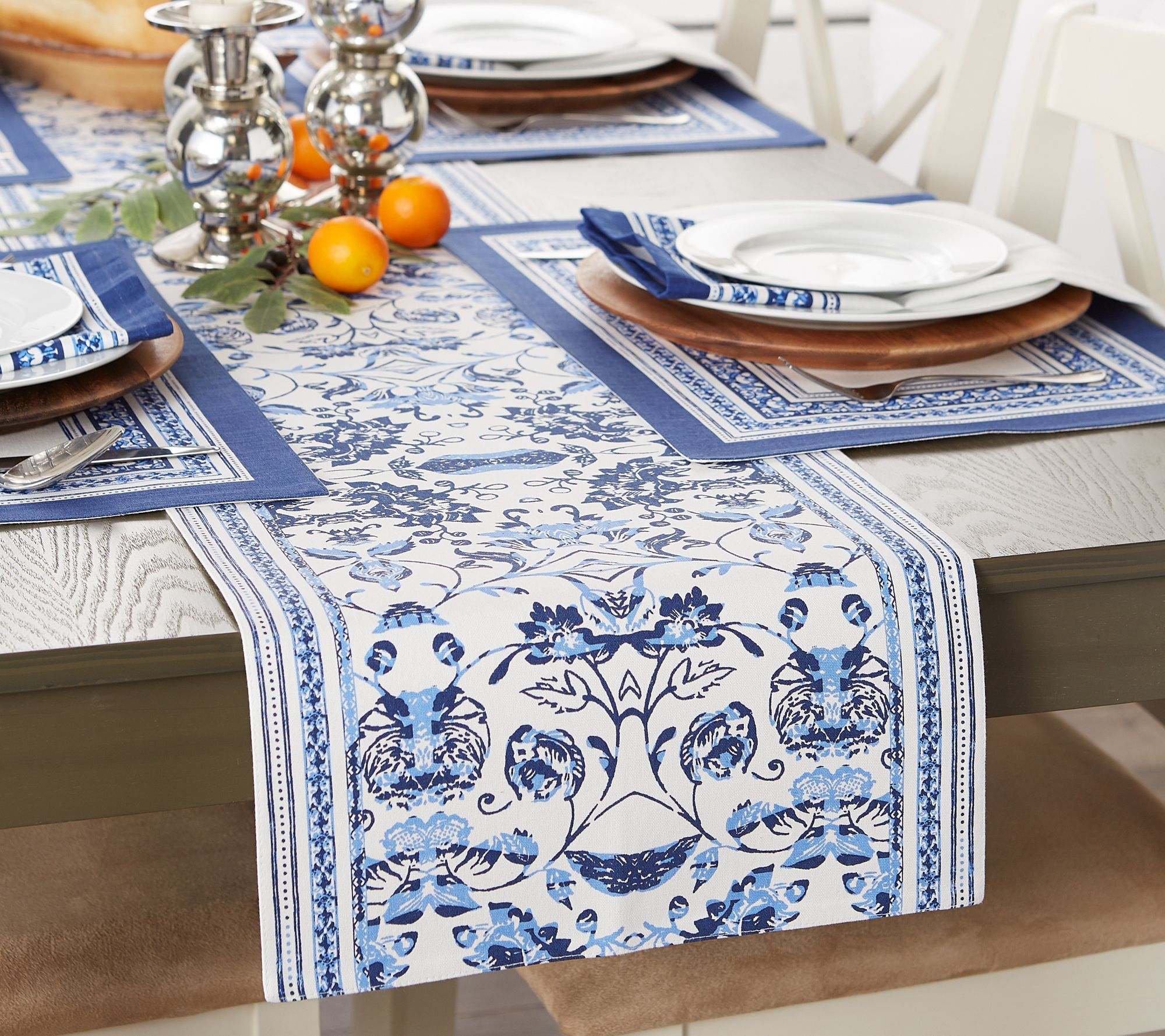 This pretty table runner is just a breath of fresh air.
I'd love to see you accent this with touches of mercury glass silver or the sparkle of elegant crystal.
Window Treatments
A simple blue and white stripe… it looks so smart and chic!
Window treatments can be expensive and are often long-term investments… so look for fabrics that are indoor/outdoor rated like these striped ones above.
They're more durable, more resistant to fading, and easily washable, so they look good for the long haul.
I also love a simple stripe as an easy pattern to mix with others in your room, be it florals, solids or geometric designs.
Easy Blue And White Decorating Elements
It's spring. They're bunnies. Blue and White Chinoiserie Bunnies!
I just think these are too cute! Small enough to nestle in anywhere.
I'd love to see these bunnies on a mirrored tray, surrounded by candles, or keeping watch over the treasures in an heirloom cabinet.
Too cute to resist!!
These beautiful vessels come in all shapes and sizes.
While I love a grouping of 3 in different shapes, simply using one of these blue and white vases as an accent on a console table or filled with fresh blooms is an easy way to add an updated touch.
I love white hydrangeas, but imagine the contrast with yellow daffodils or pretty, pink tulips!
Bedding Ideas In Blue
I'm a huge fan of quilts when I'm transitioning my bedding from winter into spring.
I really like the chambray shade of this bedding. It reminds me of a great pair of faded jeans.
And those go with anything, right? So does this bedding.
Whether you prefer the crispness of a white sheet, or want to play with a little bit of color, I feel like this blue bedding set is a great mix of the coastal and farmhouse looks that are right on trend.
And if you prefer florals, here's another option with a toile-inspired pattern!
Other Home Accents To Try
Good lighting is often overlooked when homeowners make over their spaces.
Always remember to "bookend" your furniture with lamps… whether that's a light on each side of your bed on a nightstand or floor lamps on each end of a sofa.
I like this sparkly, blue, blown glass lamp because it doesn't feel heavy. There's a breeziness to it.
Plus, that shape! It's art meets function. Love it!
This wall medallion could easily fit into any room! Plus, it's one of those pieces that could find a home just about anywhere.
Imagine 2 of these, side by side, over a queen-sized headboard!
It's not always easy to find wall decor with a lot of versatility, but I think this one hits the mark!
Well, this looks embodies the beauty of blue and white, doesn't it?
I especially like the blue and white rug, which could be very distracting, but somehow, just anchors this space, with all of its elements, so beautifully.
I love a good indoor/outdoor rug in busy areas. I know they'll hold up, be washable, and still give me the look I'm going for.
Living With Blue
I know that all of the "experts" talk about blue being the IT color these days.
I have to ask when wasn't blue an IT color?
Whether center stage or as a softer complement to color than black or brown, blue is always in style.
At least in my book.
Let me know if and how you're using blue in your home! You inspire me!
---
From my home to yours,
Jill
Did you know I have my own online shop? Check it out HERE!