I don't know about you, but now that the warm weather is here, I'm ready to throw a summer party!
I've missed my friends. I've missed my family. And I'm looking for any excuse I can come up with to have people over to my house to have fun.
Seriously. It's 1:00 on a Wednesday? Come on over!
*post sponsored by Bed Bath & Beyond-product selection and opinions are my own.
I've always loved entertaining outdoors. Maybe it's the California girl in me, but when there's a chance to sit outside, enjoy the warm air, gaze upon my blooming garden and savor delicious food (okay, and maybe a glass of wine), I'm all in.
And because we entertain a fair amount, I've learned that there are a few things I always rely on to make the get-together run smoothly…for the guests, and for me!
Create A Central Location
I always try to set up some kind of "party central" location, away from the kitchen, where my guests can grab their own drink, a simple appetizer or a little sweet treat.
It's always fun to have a signature drink to serve your guests. For a summer party on a hot day, I love my pink lemonade iced tea. It's always a crowd-pleaser!
A simple glass drink dispenser is one of my favorite entertaining items.
Whether you're using it for cold water, a favorite cocktail drink or a holiday punch, it adds to your decor and functions well to keep your guests happy!
I'm also a firm believer in having a set of cocktail glasses made from acrylic. They look like glass, but if somebody drops one, no shattered pieces to worry about!
A festive or colorful serving tray is another summer party must-have. Plus, if it's made of melamine, it makes it virtually unbreakable, lightweight and a fun way to add some pizazz to your festive set up!
No Bugs Allowed
You can't enjoy your party if you're worried about flies and mosquitos buzzing about.
I love it when I find citronella candles in decorative buckets.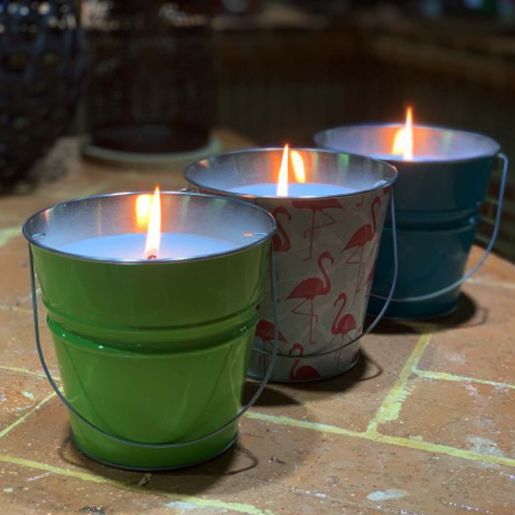 These candles are super colorful and they're the perfect size to scatter about.
I also make sure to keep my food covered outside. WIth that said, I keep it covered in a way that looks nice and still allows the food to be seen.
This woven basket has a retractable mesh cover that allows my guest see what's available while staying covered to keep the flies away!
And if you already have platters and plates that just need a cover, I like this steel mesh design because it won't blow away easily.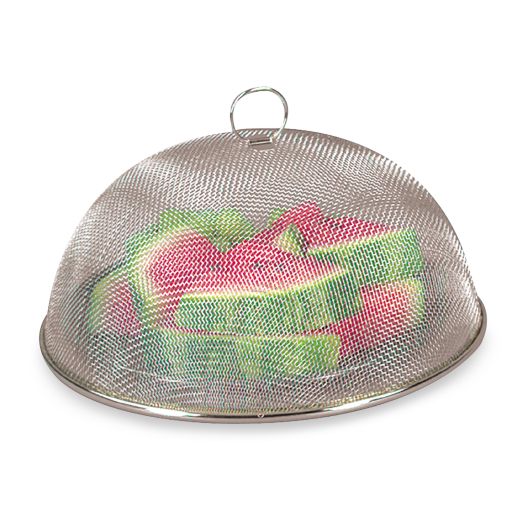 Summer Food Fun
When I think about a summer party, I usually think about cooking out on the grill. My next thought? Usually about corn on the cob.
It's such a delicious summertime treat, and it never tastes as good any other time of year.
But you need butter. And that's a bit messy when you're trying to serve up corn to lots of people. (Now's when we cue the William Tell Overture…)
Enter, BUTTER BOY!
Butter boy is the cutest little butter holder ever! He holds 1/2 stick of butter and makes it easy to glide that melty goodness all over your summer corn. You can see how to use him in the video below!
And speaking of summer vegetables, I'm a huge fan of these grilling mats, that allow you turn your grill grates into a cooktop, of sorts.
The mats are terrific for veggies, shrimp, or anything else that seems to slip through grill grates.
They're reusable and easy to clean too.
Summer Party Pleasers
When your summer party goes into the evening, make sure to have some pretty solar lights on hand to add to the ambiance.
These colorful mason style jars look lovely by day and by night!
Happy Summer!
I hope you all have the chance to throw a little summer party this season.
Whether it's a large gathering or a small get together, won't it be nice to have company again?
Now, soak up the sun and every reunited moment.
From my summer home to yours,
Jill