Welcome to week three of my holiday gift guides! So far, I've released my list of "Affordable Gifts Under $50" and included style, beauty, kitchen and home gifts that won't break the bank.
And I put together some creative ideas for the hardest people to shop for on your gift list. I don't know about you, but for me? Husbands and teenagers are at the top of my list!
While a lot of my picks gave you some gifting inspiration, some of you also explained that you have trouble shopping for friends and family because because they already have everything.
Well, you're not alone! That's why this week's guide includes a whole bunch of food gifts — perfect for those who don't want anything sticking around the house beyond the holiday season.
So before you give up on those hard-to-shop-for-friends, take a look at these appetizers, sweets, meats and more. And if you're like me, you won't make it through the list without adding a few to your own cart!
Remember-if you see a blue highlighted link, just click on that to learn more about the food items I've picked for you!
*Post contains affiliate links.
Appetizer and Snack Food Gifts
I love hosting friends and family at my home which is why simple snacks are my best friend! These food gifts are perfect for holding people over until the big meal, and when you provide small portions, you can truly cater to everyone at the party.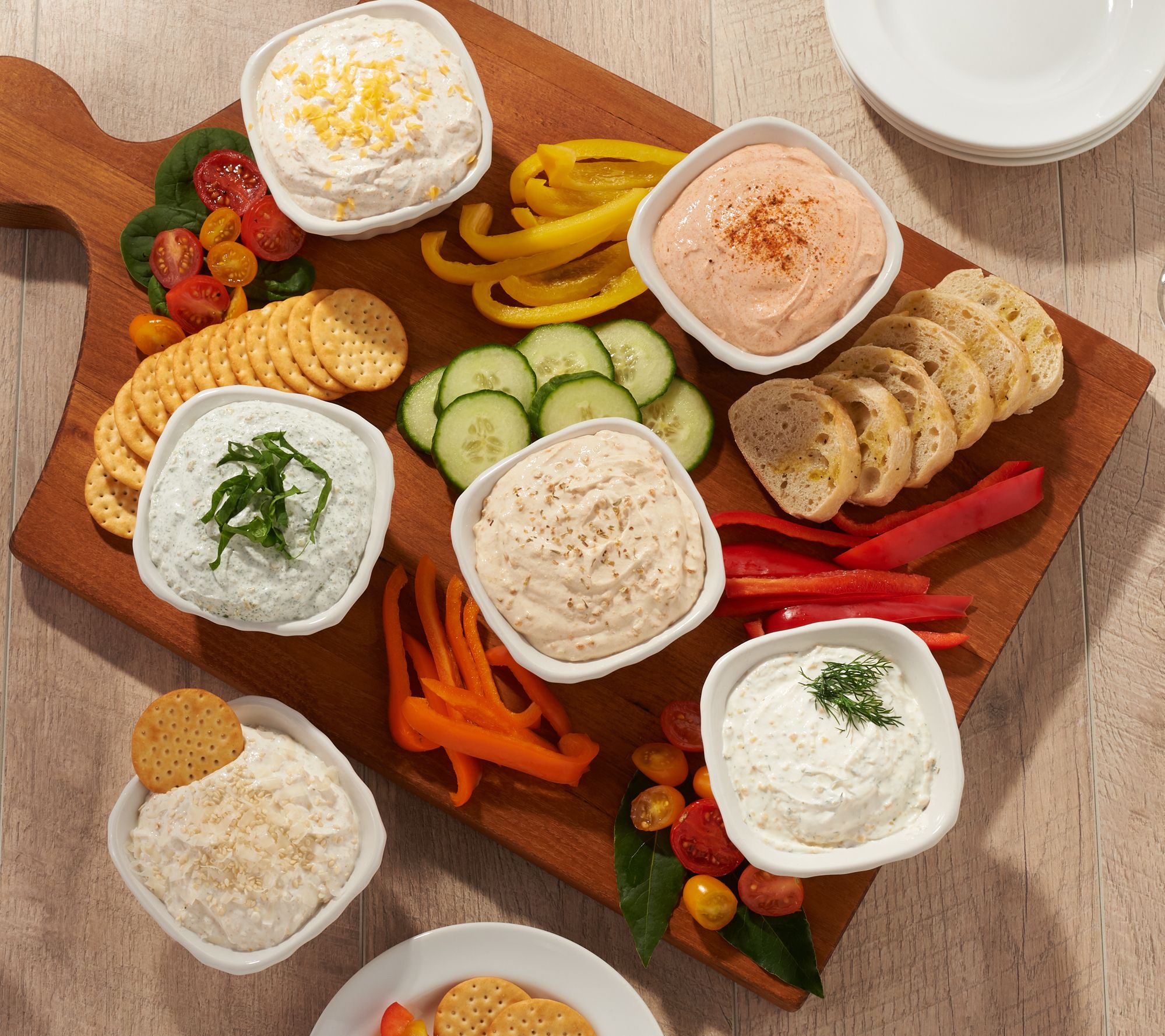 If you're gifting for a football fan or simply someone who likes to set up an appetizer tray before dinner, you should look into these Temp-tations Dip Dip Hooray mixes. From Spunky Spinach to Cheddar Cheesy Bacon, there's something for everyone in this bunch!
I've always been one to set out a little bowl of treats to please any passerby. This Farmer Jon's Popcorn, covered with decadent caramel looks like it would be a good filler. It also comes in flavors like Cookies-n-Cream, Peanut Butter and Hazelnut.
I would be so excited to receive this little treat in the mail! It's called the Alder Creek Artisan Soup Gift and in addition to the adorable mug, comes with crackers, hot sauce, soup and a side of caramel-filled chocolate.
One of the simplest appetizers you can make is bruschetta. Simply put out a sliced, toasted baguette and add a pre-made topping on the side. But if your gift recipient is a bit picky, you can opt for the Pick 4 Appetizer Spreads which includes artichoke lemon pesto, artichokes in merlot, green olive spread and bruschetta spread.
Something To Be Nuts About!
If you want your friends and family to go nuts, then you should be sending them Whitley's peanuts. I stumbled across this brand over a year ago, and I have to tell you, they're the best peanuts I've ever tasted.
Whitley's is offering my readers 10% off their order of $20 or more with promo code: JUSTJILL10 at whitleyspeanut.com. Some exclusions apply and the offer is only good through 11/19.
Whitley's batch roasts extra large Virginia peanuts to perfection. There's so much crunch and flavor! Once you try Whitley's you'll understand why I'm so crazy about their products!
For the holiday season, Whitley's has a fantastic assortment with beautiful packaging. For the true nut lover, I'd suggest the classic tin of Virginia peanuts. You can't go wrong with what put you on the map and these peanuts are the heart of the Whitley's brand.
I really like the combination in this new gift trio called Whit's Favorite Assortment. You'll receive Virginia peanuts, jumbo cashews and milk chocolatey peanut clusters all packaged in a happy holidays red box. Great to send or drop off in person!
I was really taken by the Let It Snow gift box assortment. There's a little bit of everything in this set, from peanuts and cashews to pistachio and dark chocolatey covered almonds.
And while Whitley's is known for their delicious nuts, they're really good at taking those nuts and making them down right decadent. One of my personal favorites is their white chocolatey cranberry peanut clusters.
They look festive, have just the right amount of sweet, and the chewy slightly tart cranberries with the crunch of the Virginia peanuts? SO YUMMY!
I'm so excited to be able to offer you a promo code for Whitley's! Remember to use promo code JUSTJILL10 for 10% off any purchase over $20 at whitleyspeanut.com. Some exclusions apply. And Whitley's offers free standard shipping too!
Sweets and Treats
If you check out all my recipes at justjill.com, you'll know that I'm a HUGE fan of sweets. Cookies, baked goods, pies… give me anything!
As it turns out, I'm not the only one with an affinity for sugary treats which is why I wanted to include a few of my favorite sweet food gifts.
Let's start with My Grandma's coffee cake. I've been buying this delicious cake for over 25 years! It never lets me down. I'm a purist….cinnamon walnut is my preference, but there are many flavors to choose from!
Give the gift of holiday sweets with these Landies Candies Holly Jolly Pretzels. What's neat about this batch is that there is so much variety. Something for the white chocolate lover, something for the nut lover, and even something for the person who loves butterscotch!
I've featured Junior's Cheesecakes before because they're a classic. Now you can have the same taste in a pint-sized treat with this Junior's Holiday Mini Cheesecake Assortment.
If you're a Starbucks lover, you've likely seen those cake pops sitting in the display case. They're tasty, don't get me wrong, but these Christmas Cake Pops look even better! I found them on Etsy, meaning you can support a small business with every purchase!
Classic. Delicious. A crowd-favorite. This American Style Apple Pie is bound to be one that gets everyone up off the couch after the meal! This one has a super flakey crust and a touch of cinnamon.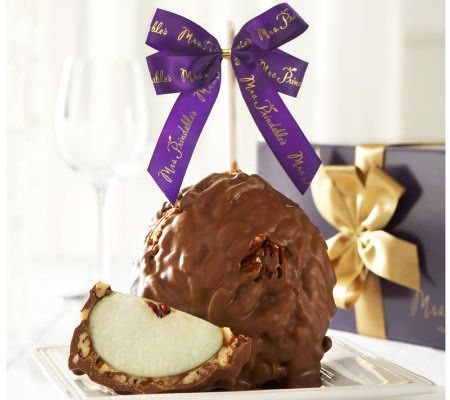 Think about a regular caramel apple… now take it up a notch with Mrs. Prindables Apples! Not only is it covered in mouthwatering caramel, it's also adorned in walnuts, pecans and milk chocolate! If that doesn't grab your attention, I don't know what will.
Meat and Cheese Food Gifts
Did you see my charcuterie blog? If so, you'll know that meat and cheese trays are more popular than ever!
Whether you prefer to stick to a traditional tray of salami, prosciutto, and sharp cheeses, or you'd like to change things up with some jam and sweet treats, there's some food gifts here for you!
You can't go wrong with a basic meat and cheese board at any gathering which is why I love this Hickory Farms Family Traditions Gift Box. Whether you keep it for yourself or you gift it to someone else, it includes universally-liked options to cater to almost any guest.
In addition to meat and cheese, the Fresca Spanish Tapas Collection includes sweet jam and a side of nuts. Plus, it's a product of Spain so you can feel a bit worldly while dining in your living room.
The Holiday Meat and Cheese Gift Box comes in the most adorable box, meaning you can easily gift it with little to no effort. It also includes the sweet treat of peanut brittle — and you know how much I love my sweets!
Meals and More
Half of the trouble that comes with cooking a meal comes with preparing the meat. Instead of leaving that entirely up to the host, gift a classic meat to make the process of creating a delicious dinner a cinch!
Who says barbecue has to be saved for the summer? When I found this FarmFoods Grass-Fed Beef Brisket, I knew someone out there would love it! Just imagine that smokey, delicious taste that basically melts in your mouth… I'm all in!
Can't decide on just one meat? Check out this Sliced Ham and Turkey Sampler — great for entertaining! Each meat totals two pounds (so you'll get four pounds total), meaning you can save some for leftovers or post-holiday sandwiches.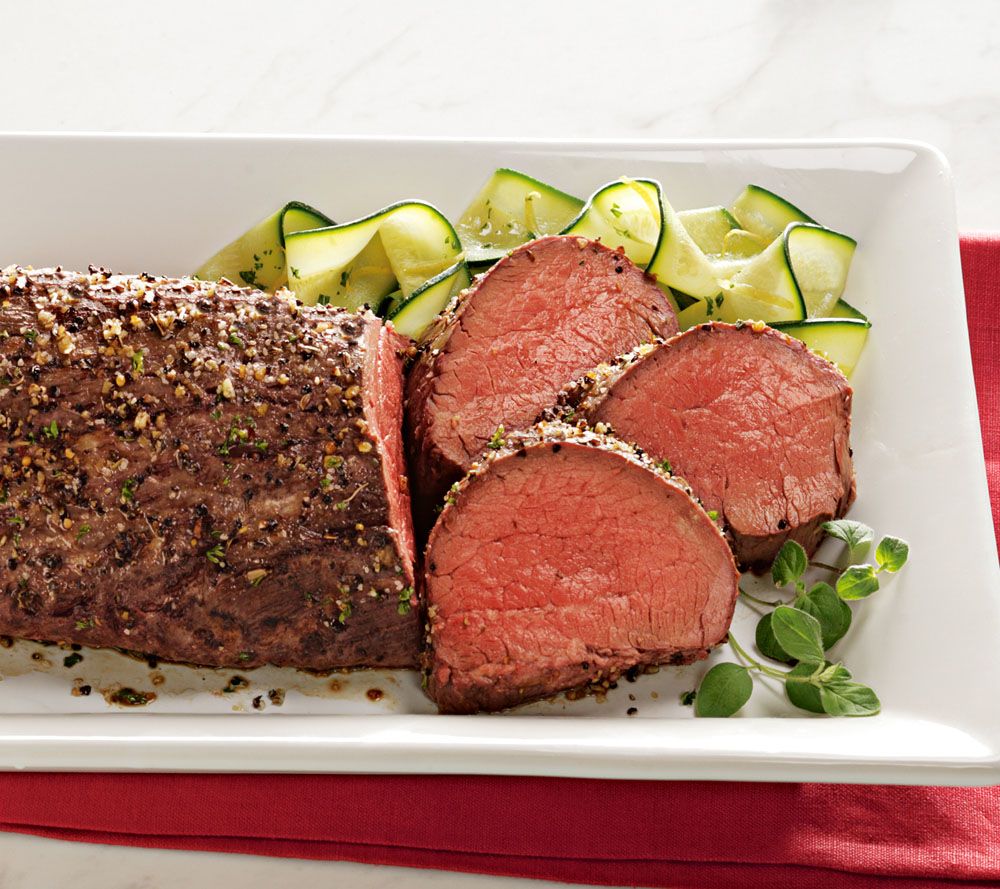 The Kansas City Steak Chateaubriand has been our family's holiday meal for several years. It's absolutely delicious (it's basically a filet mignon roast) and is so easy to prepare.
It's a splurge…but when you are basically getting 4lbs of filet mignon and can slice it yourself so there's no waste? Worth every penny. I highly recommend considering it as a gift…or to make you look like a rockstar at this year's holiday meal!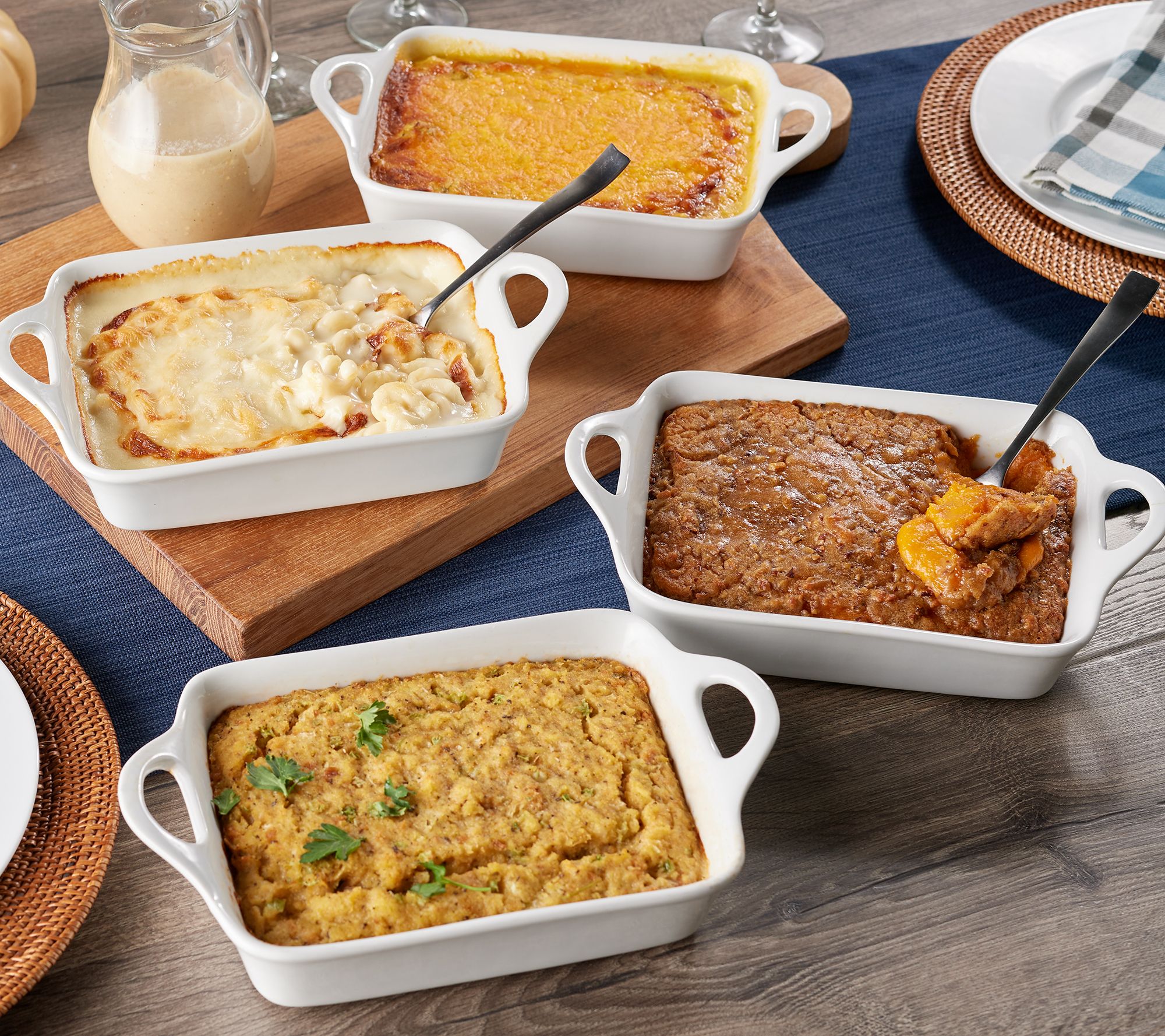 And don't forget the sides! St. Clair has some of the closest to homemade sides I've ever tasted. I love the idea of sending these to that busy family who may not have time to make all of the extras…this lets you do it for them!
Specialty Drink Gifts
Here are a few holiday-inspired options for anyone on your list.
I found some drinks that are perfect for family time around the fire. And hey, there's no saying you can't treat yourself to a few of these over the holiday season!
The Williams Sonoma Bourbon Gift Set contains three flavored syrups to make bourbon-based cocktails. The first is Old Fashioned, the second is Sazerac and the third is Manhattan flavored.
If you're gifting for kids or for a family, this Hot Chocolate Set is sure to bring a smile to everyone's face! It's filled with ingredients like cocoa powder, sugar, chocolate chips and peppermint bites (to name a few).
All you have to do is mix it with some milk or water for a warm and tasty cup of cocoa!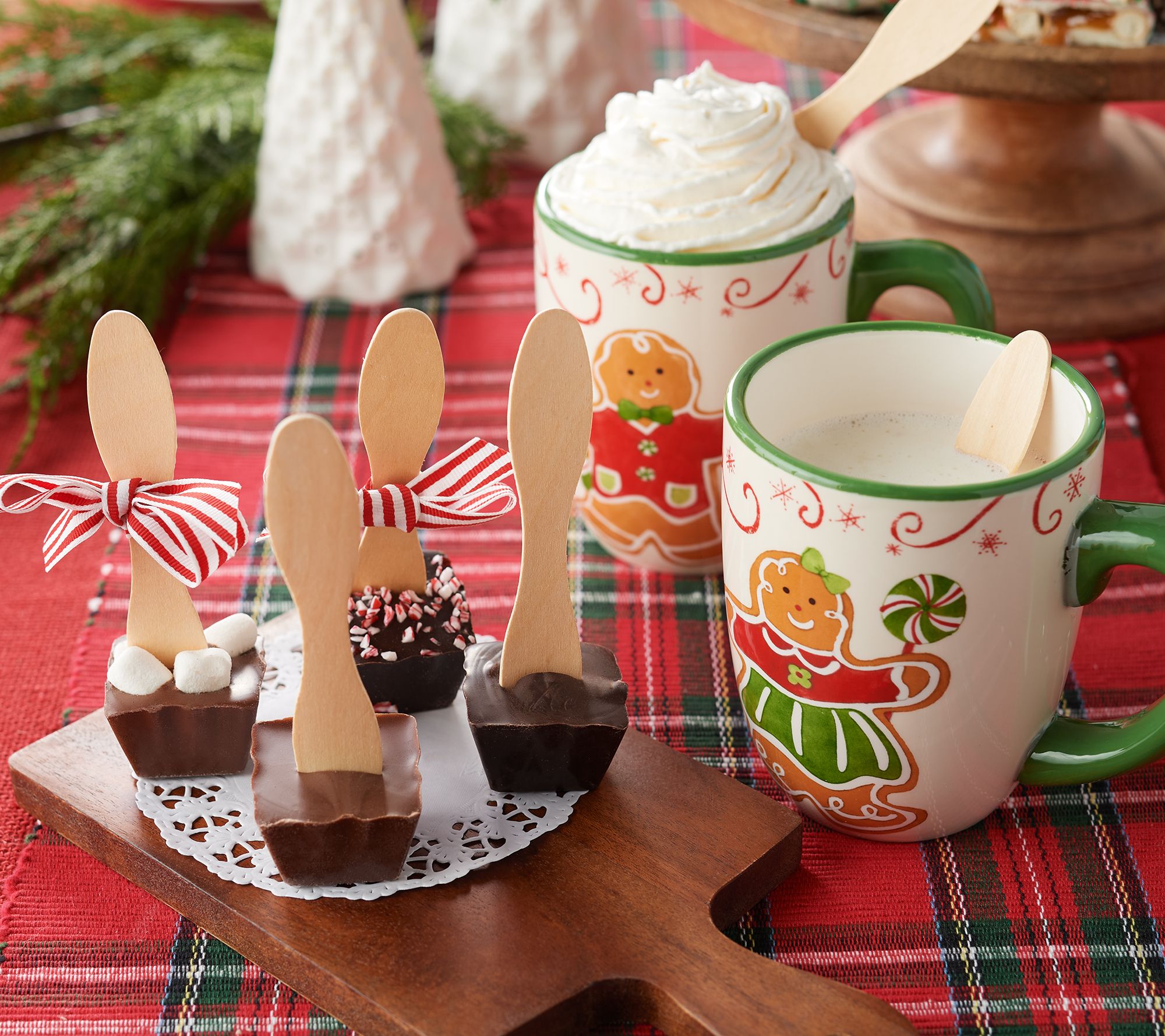 Don't leave without this Chocolate Works set of 12 hot chocolate spoons! Simple, creative and perfect for the holidays!
I can remember as a child when our family would receive a gift of food. It was always so exciting to open up the box or tin and try something scrumptious and new! I hope these gifts of food ideas help you find a perfectly delicious treat for your family and friends. And I won't tell you if you decide to treat yourself too. Wink wink.
From my holiday home to yours,
Jill
Find more of my food favorites here:
– Sock It To Me Cake
– Slow Cooker Pumpkin Butter
– Easy No Bake Energy Bites