Spring is the season of open windows, sunny days with cool breezes, and buds and leaves awakening from their winter slumber.
But let's face it, spring is also a time for refreshing and renewing our homes after months of Jack Frost keeping us inside.
There's nobody out there who enjoys being at home as much as me. I'm a homebody to my core. And what goes along with that is a dedication to finding ways to keep my nest looking tidy, updated and clean.
*post contains affiliate links-opinions about products are my own. Click on the underlined links for more product information.
Bathroom Bargains To Refresh and Renew
Can you really makeover a bathroom without renovation and big bucks? YES! Look how a few pretty and practical touches finished off the look of one of our bathrooms.
This is a small, guest bathroom in our home. With no budget to renovate, I'm always looking for creative ways to give it a little pizazz!
When you have a small space like this, it really is the small details that make a BIG difference!
I started by swapping out the old rug with this striped rug by UGG.
I really like contrasting the soft, dusty sea green with the crisp white. And aren't the tassels on this rug adorable? It's also very soft and plush underfoot!
The perfect complement to this rug? Look at this super cute waste basket. Don't you love the chunky weave?
Now that the floor is taken care of, time to add a few things up on the counter. I like items that are decorative but serve a purpose. So in the bathroom, a pretty toothbrush holder and soap dispenser are the perfect pieces to add some style.
I always like using candles to decorate and scent my home. Isn't this one a beauty? I thought it looked very "spa" like and the scent morphs from one into the next as the candle burns down. Love it!
So, with these simple additions, look at what my bathroom looks like now….
I accomplished exactly what I was hoping for…a simple and refreshed look that kept me on budget!
My Dream Vacuum Helps Me Refresh My Home
I have tried just about every major brand of vacuum on the market. But there has always been one brand I wanted to try, but I always talked myself out of it.
Until now.
I'm a bit obsessed with the Miele brand. It's definitely a luxury brand in the home market…from their appliances to coffee makers to their vacuums.
As someone who loves the convenience of a cordless vacuum, I was thrilled when I learned that Miele was entering this space and that was when I decided to splurge and get my first Miele vacuum.
You can read down further if you want…but I'll tell you what you want to know right now. WORTH EVERY PENNY.
I think a cordless vacuum is essential to keeping a tidy home. Especially when you have kids. And dogs. Remember, I have 2. BIG. FURRY. DOGS.
If I don't do a quick vacuum sweep of the floors almost daily, we are living with dog hair tumbleweeds!
So why do I love this new Miele Triflex? OH, let me count the ways!
I'll get to some of my favorite secondary features in a moment, but none of those really matter if the vacuum doesn't do its job.
This vacuum is performance based. It is as powerful as most of Miele's corded vacuums. It has automatic floor detection, so it knows whether I'm cleaning carpeted or hard floor surfaces and adjusts accordingly.
IT RUNS FOR 1 HOUR on a single charge! You can even buy a back up battery so you'll always be ready to clean.
You can configure this Miele vacuum 3 different ways…from a longer handled version, which allows getting into harder to reach areas.
The second version allows you to put the canister down lower, making it much easier and comfortable to maneuver for every day cleaning.
And, you can turn this into a handheld unit for upholstery and stair cleaning. It's also great to clean the interior of the car.
It includes a maintenance free lifetime filter that traps 99.98% of dust, making it great for allergy sufferers.
It's bagless and easy to empty.
Extras I Love
Outside of performance, maybe my favorite part of this Miele vacuum is how quiet it is! You'll be amazed. It doesn't scare the dogs and might just be quiet enough to allow parents the chance to get some housework done while little ones are sleeping.
I also really like having a headlight! It really helps me see hidden crumbs, especially on hardwood floors.
I'll be honest here…I've been a Dyson fan for as long as I can remember. And I've spent big bucks on those models too. But now that I've tried the Miele, it's going to be a tough sell to get me to go back to any other brand.
Because we let our dogs up on the furniture (believe me, I fought this forever, but sometimes you have to choose your battles!) I purchased the more expensive Cat & Dog Triflex because it has additional attachments specific to cleaning up dog hair.
But if you don't have pets, or pet hair on upholstery isn't an issue for you, the less expensive Triflex has all of the same power as the model I'm using, so you should have the same experience in performance.
My bottom line is this….yes, it's expensive. But this is truly the first time I've found a cordless vacuum that I think can handle total household floor cleaning.
Usually, a cordless vac is a complement to a corded version that is used for deep cleaning. With this Miele cordless Triflex vacuum, I have everything I need in power, performance, weight and run time to use this as my ONLY vacuum in the house. Can you tell? I LOVE IT!
Quick Cleaning Must Have
Another secret weapon I use when I want to refresh my home? Microfiber cloths!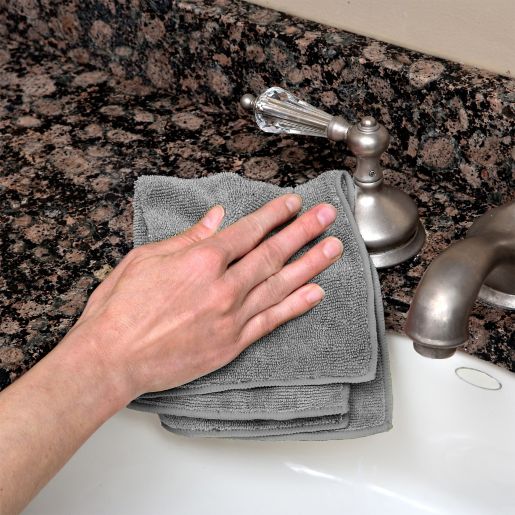 These cloths are the BEST for quick and easy clean ups when you want your home to sparkle and shine.
They're a must if you have stainless steel ANYTHING (did you know papertowels actually create microscopic scratches on stainless steel!).
But, they're also great for glass top stoves, windows, mirrors, countertops…I could go on and on.
I also like that you don't have to use a lot of cleaning agents to get the job done either. If you haven't every tried using microfiber cloths, they're worth a shot and certainly a bit more eco friendly than all of those endless paper towels!
How Do You Refresh Your Space?
It really is the small stuff that seems to make the difference in making your home feel refreshed.
Whether it's a new bath mat and candle or an investment in an appliance to make your life a bit easier, I hope my ideas and reviews on products can help you when you're ready to renew!
If you're looking for some home decor inspiration, be sure to check out how I transform a simple white plate into tabletop magic by clicking HERE.
And if you love using shades of blue in your home, click HERE to see how I like to refresh our coastal home.
We're finishing up a kitchen cabinet makeover at the moment…I can't wait to share the final reveal with you in the coming weeks!
From my refreshed home to yours,
Jill