I don't know about you, but I'm ready for spring. Between the snowstorms and staying inside more than usual, I could use a little pick-me-up—both outside and inside my home.
I may not be able to control the weather, but I can control the environment in my household. And one of the best ways to bring a little cheer indoors is with decorations and home accents.
So I did some looking around and found a bunch of fabulous spring decor items that are sure to brighten anyone's spirits!
From lamps and flowers to rugs and pillows, I found something for every corner of your home.
*post includes affiliate links
Best Spring Decor For Your Living Room
Lighting can really brighten a room in so many ways.
From the actual glow of the bulbs to the decorative nature of the lamp, they are one of the things I always have my eye on.
I want to start by showing you a couple of buffet lamps that I'm absolutely in love with.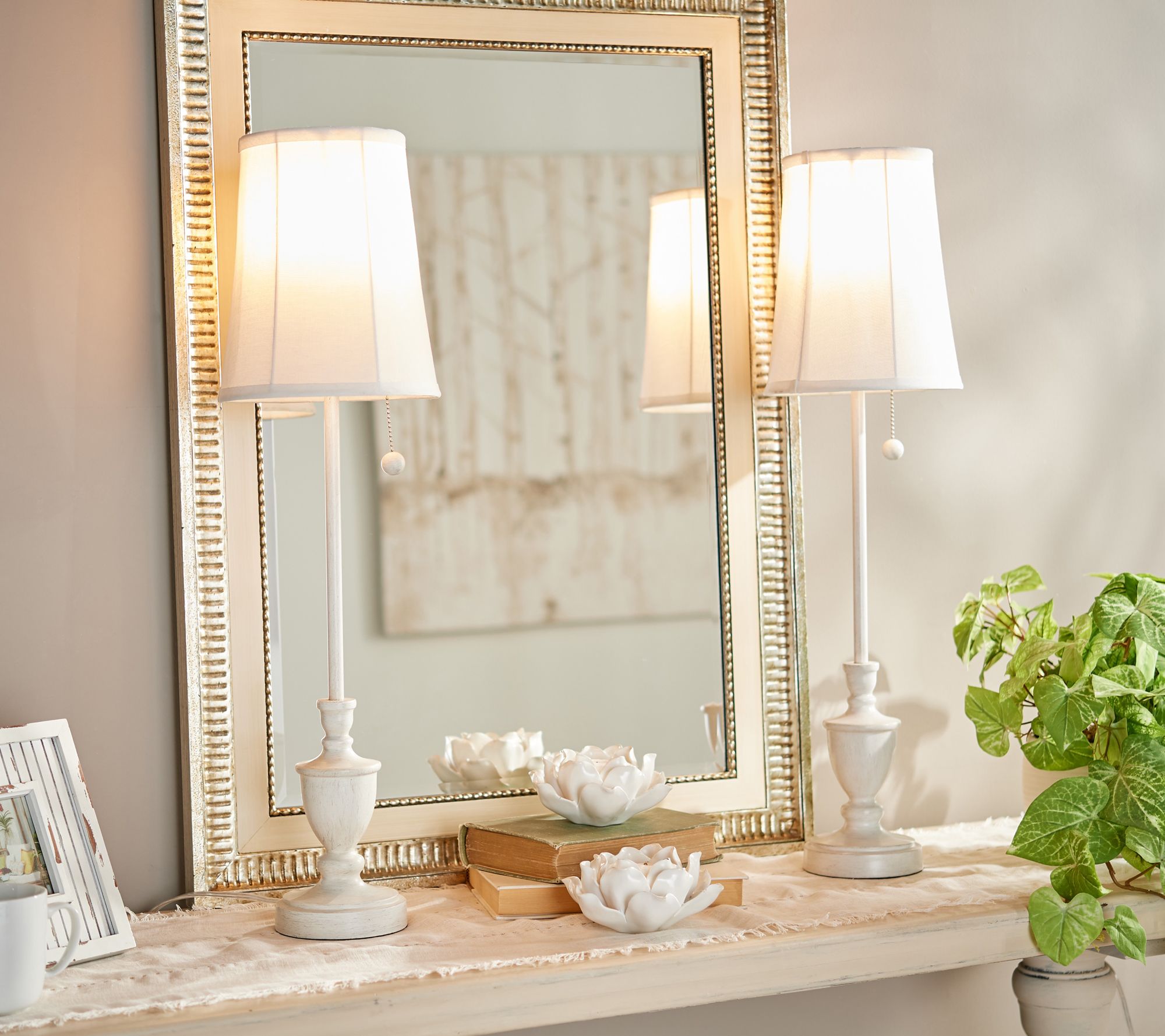 They're from Valerie Parr Hill and they're perfect for an entryway, living room, and more.
The Buffet Accent Lamps also have an elegant and streamlined silhouette that can work in your house year-round.
Related: The Best Places to Use Buffet Lamps to Decorate Your Home
Here are a couple of other lamps that look great for the spring months. If you can have a decor piece that's also practical, I call it a win.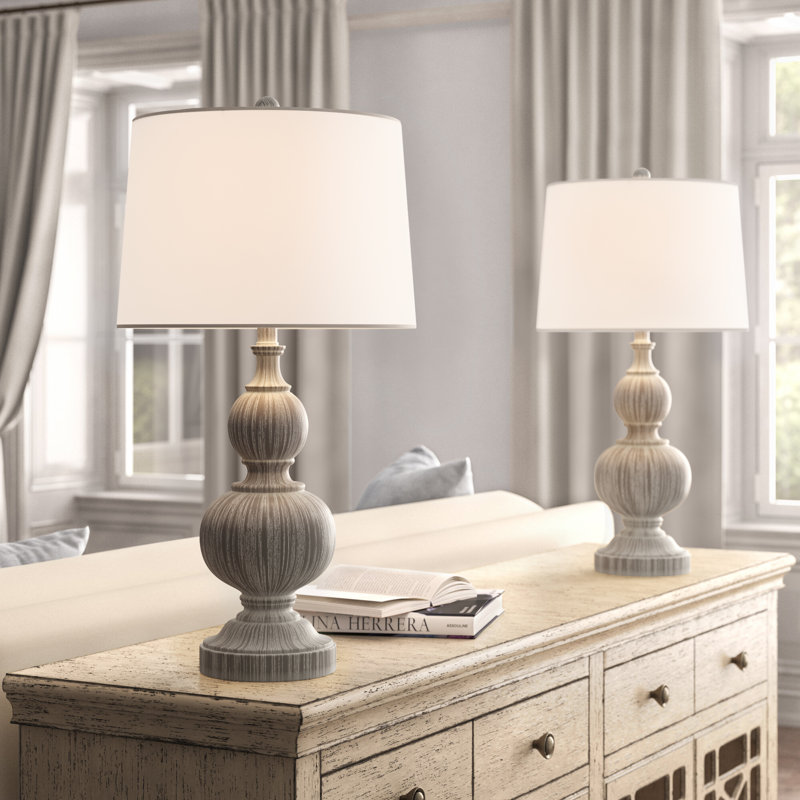 Take a look at this beautiful Lindauer Table Lamp Set.
And this unique Geo Assembled Table Lamp I found at Target.
But lamps aren't the only practical decor find you can have in your home. Check out this coaster that you can use on your coffee table.
These Custom Engraved Wood and Marble Coasters are handmade from Etsy. A great way to add a personalized touch to your household.
One half of the design is made with white marble and the other half is made with light-toned wood. Plus, no two are alike—they each have a unique touch.
Here's another addition you can place on a table. It's a Light Woven Tray and it can hold everything from floral centerpieces to the remote for your television.
I love the woven style because it's a bit earthy while still looking polished.
This next find is a great option if you'd like to spruce up your couch. They're Knit Pillow Covers from Pottery Barn and love that they come in multiple colors.
Better yet, they're double-sided. So, you can flip them to the sherpa side during the cooler months and the knit side when it gets warmer outside.
Whether you use it to actually reference the time or it's just for decorative purposes, this is one of my favorite decor pieces I have in my own home.
The Scott Living Clock can be used year-round and it fits with both rustic and farmhouse decor.
Household plants can truly change the look of any room. They can actually boost your productivity, mood, and creativity, according to The Sill.
So if you're ready to hop on by the store to pick up some succulents and flowers, you can set them on this International Concepts Plant Stand.
The light wood is a spring must, and the addition of the stand will allow you to place your plant anywhere around your home.
Speaking of plants, I found a few below that I might add to my own living room this spring.
It's not that I don't like to have real plants in my home, but they can be hard to keep up with!
That's why I love this Faux Orchid Plant which is a great, low-maintenance decor option.
These individual flowers are also a good pick.
You can throw them all in a vase on their own. But you can also intertwine them into another bundle of flowers.
While we're here, if you're looking for a place to put those flowers, this Scott Living Luxe vase is both elegant and unique!
My Picks For Bathroom Decor
Home decor can go way beyond your living room.
And while most people don't consider the bathroom to be a place for decorative finds, adding a few pieces can turn your bathroom from a place you have to be into a place you want to be.
To start, I want to show you a couple of shower curtains. I love these stripes and think they look clean and fresh—exactly what I aim for in my bathroom at home.
These hookless shower curtains below are easy to install and easy to update when you don't have a budget for a total renovation.
This Gray Hookless Cabana Stripe Shower Curtain is super practical and versatile.
But if you're looking for something with more of a natural look, I recommend adding this Farmhouse Shower Curtain to your space.
While I love the simplicity of adding a new shower curtain, bathroom decor doesn't have to stop there.
I discovered this Avanti Linens Gilded Birds Tissue Cover decorated in elegant little birds.
I don't recommend using it if you already have a lot of patterns in your bathroom, but if the rest of your decor is basic, you can certainly add it to your space.
I'm heading back to the practical decor with this find!
It's called the Zilla Cedar Wood Tiered Shelf and it's designed to hold everything from towels to toilet paper.
I see it as a great addition if you don't have much storage space under the sink.
Are you the type of person who likes to take off all your jewelry before bed?
If so, you'll love this Grit and Grace Oyster Jewelry Dish. It comes in multiple springtime patterns, and it certainly doubles as decor!
As I said before, you really can't go wrong with stripes. They're clean and don't go out of style.
I like this Chunky Chenille Striped Bath Rug and appreciate that it's also extremely absorbent.
Here's an adorable Mason Jar Bathroom Set I want to share with you.
It's handmade by a small business on Etsy which surely adds a unique touch to the jars.
They also have a rustic look to them which helps add to the scene if you already have farmhouse decor in your bathroom.
While you're decorating your bathroom, don't leave your walls bare! Instead, hang some pretty art like this print from Scott Living Home.
Spring Decor To Add To Your Kitchen
The kitchen is another place people don't tend to decorate. But it's so easy to add a few seasonal touches to the space!
You can start by adding some baskets to your kitchen because they're both beautiful and practical! This woven basket is great for fruit and it can be set on your kitchen table or on your countertop.
I've had SO many people ask me about the wooden lazy susan I use in my charcuterie video.
And while it's great for entertaining, it's also a great decorating centerpiece on my kitchen table as well!
I don't have the original because I bought it years ago, but this Magnolia Lazy Susan is the closest one I've found to mine in size.
You're going to have a ball coming up with ways to use it!
Also from Target are these Magnolia Glass Jugs. I bought two sizes and used them during the fall and winter with simple flower stems. So simple, so perfect.
I enjoy using them in the kitchen, but you can also use them on the mantle, an entry table or as a collection together.
Frankly, they look as good empty as they do filled.
If you need something to add to your kitchen table, I recommend this Textured Table Runner. It has a burlap look to it but with a bit of a twist.
The neutral tone also means it will pair well with any decor style.
Say goodbye to scrambling last minute for what to eat throughout the week.
This Weekly Menu Chalkboard will help you plan and stay organized—plus it features a beautiful natural wood border that makes it just as decorative as practical.
---
I hope you enjoy these spring decor finds I picked out for you. And if you have any to share with me, I'm always open to hearing about what you're doing in your own home!
From my spring home to yours,
Jill