If there's one thing you should know about me, it's that holiday cookie recipes are my thing.
Bar cookies, no-bake cookies, cut-out cookies, crunchy cookies….you name the cookie recipe and I guarantee I like it!
Cookies seem to take center stage during the holiday season. Holiday cookie exchanges might not look the same this year, but that's not going to stop me from baking my little heart out.
And honestly, I think the personal touch of a homemade baked gift is the kind of Christmas spirit we could all use right now….even if you have to leave a platter of goodies on someone's doorstep, there's something kind and wonderful about that, don't you think?
Since I probably have more cookie recipes on Just Cookies, I mean, Just Jill 🙂 than anything else, I wanted to put together what I consider to be the best cookies for a holiday cookie platter. No doubt, when you bake up these delicious treats, you'll be the star of the holiday baking season.
Before I get to my best holiday cookie recipes, here are a couple of tips and must haves for successful cookie baking. You can click on the blue highlighted links for more information about my favorites.
*Post contains affiliate links.
Just Chill! And More Cookie Baking Tips
Good advice for you and good advice for your cookie dough too. I really find that a chilled dough bakes better and is also easier to handle and shape.
Once you've chilled your dough, let it sit out at room temperature for 5-10 minutes before you start scooping, rolling, shaping and baking. Chilled dough will also help to keep your cookies from spreading.
Your oven may say it's a certain temperature, but the only way you'll really know is if you invest in an oven thermometer. Baking is an exact science in every way…from your measured ingredients to your oven temperature. It all matters! So don't guess on the temp and end up with a burnt cookie bottom.
I also swear by my cookie scoops. They result in uniformity in size for the cookies which also means more uniform results while baking. Once you start scooping, you never go back. My favorites are by OXO because the spring loaded handle is easy to use and releases the dough perfectly.
I'm also a huge fan of silpat baking mats. They come in different sizes to fit various cookie sheets (click HERE to check out my current favorite cookie sheets) and also promote even heat, so that when baking at the right temperature, the bottoms of your cookies are that magical golden brown.
I hope those cookie baking tips and tricks were helpful! And now for the fun part! Are you ready for my best holiday cookie recipes? Ready! Set! Let's Bake!
These are a Just Jill tried and true favorite. And yes, I think every cookie platter should have chocolate chip cookies on them because they're the cookie everybody seems to love. They're easy, you can make a lot of them, and if you have some left over, these freeze beautifully for several months. I often halve this recipe and it still makes about 3 1/2 dozen cookies. If you do decide to halve the recipe, use 2 eggs. I do it all the time and it works like a charm!
These fudgy cookies are great to include on a cookie platter because they're for the diehard chocolate lover. You'll love making them because they use a brownie mix as the base. When you're baking up a lot of cookies, you want a few of those recipes to be easy as can be. This fudgy favorite is that recipe.
Oh how I love the peanut butter and chocolate combination. These no bake cookies are quick and simple to make on your stove top and give great flavor and texture to your holiday cookie platter. These freeze really well too. I recently rediscovered these cookies in my Grandma's recipe box and I'm so glad that I did. I hope you enjoy this as a holiday cookie recipe for your family.
I TOLD you I love the combination of peanut butter and chocolate! But these cookies might be the easiest of all…AND they're gluten free because they don't use FLOUR! WHAT??? Yep, hard to believe but there is no flour in this cookie and they bake up to be the softest, most flavorful peanut butter cookie I've tried. This is another Just Jill favorite!
If you want to make cut out cookies to decorate for the holidays, then this is your recipe. These sour cream sugar cookies are slightly sweet, but bake up to a puffy softness that cookie dreams are made of. You don't need to buy that refrigerated, sticky cookie dough at the grocery store! This recipe makes several dozen cookies, so I like to put the unfrosted cookies in the freezer to use on a snow day in January. And remember that tip above about chilled cookie dough? It's an absolute must for this recipe.
These tender, buttery bites of goodness are a holiday cookie favorite. They go by many names, but I just call them delicious. This is my Grandmother's recipe and is the best I've ever tried. She used powdered sugar in the dough as well as for the outside of the cookie…I think it makes for a tender, delicious Christmas cookie bite!
I'd like to introduce you to what may be my all time favorite Christmas (or anytime!) cookie. It's a toss up between these and chocolate chip.
Why do I love these so much? The cookie portion is a buttery shortbread that just melts in your mouth. The dollop of jam in the center is the perfect kiss of flavor.
I'm a purist and usually stick to raspberry (or my fave jam flavor, strawberry raspberry by Sarabeths!) but when you have so many gourmet jams on the market, the sky is really the limit to the flavors you can try! You can make these with or without nuts…I say, just make them anyway you can!
And If You Don't Feel Like Baking From Scratch
I get it. If you're not really a baker, then the idea of making Christmas cookies isn't as fa-la-la-la for you as it is for me. So let me help you with a couple of favorite cookie brands that will let you get into the holiday cookie spirit with very little effort!
From buttercream frosted to classics like chocolate chip and sugar, this cookie sampler is a holiday cookie exchange in a box!
This is a great gift to send to families across the miles….but since each cookie comes individually wrapped, it's also a wonderful way to have a little something to give to neighbors and helpers.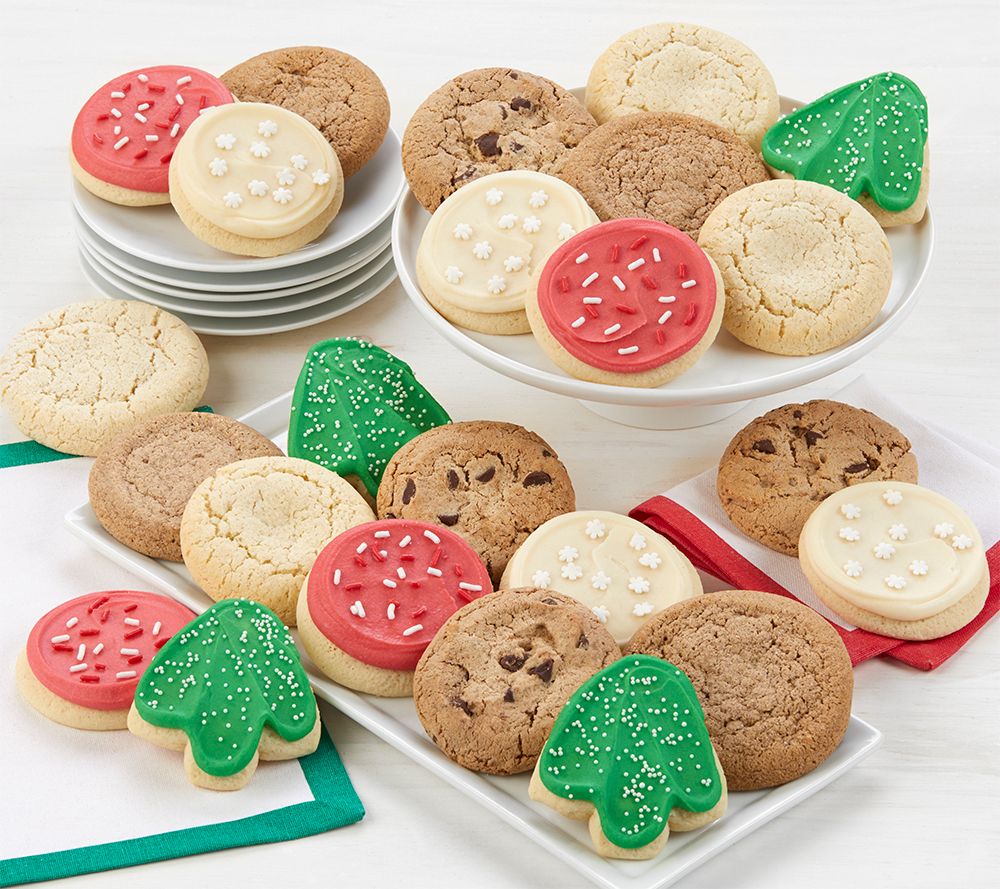 So this cookie sampler requires you to do some baking….but the dough is already made for you. This sampler has 200 preformed cookie dough mounds just waiting for you to bake them up!
Flavors like pecan meltaway, hot cocoa marshmallow and holiday sprinkle are the perfect assortment when you want your home to smell like homemade cookies…without all the time and effort. The dough stays in the freezer for months, so you can bake whenever the mood strikes!
I hope this gives you some some new cookie recipes and ideas when you're planning out your holiday baking.
Have fun with it! Even it you choose just one kind of cookie to bake, take some time to enjoy the process and of course, the end result!
From my holiday kitchen to yours,
Jill